Naderge Pierre M.D.
Class of 2010 - Orlando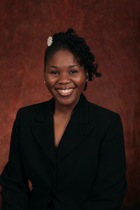 Status: Currently Practicing
General Surgery
Resident: General Surgery Residency Program
Washington Hospital Center
Washington, D.C.
Completion Year: 2016
Fellowship: Colon and Rectal Fellowship Program
Colon and Rectal Surgical Association
Atlanta, Ga.
Completion Year: 2017
Currently Practicing: General Surgery/Colon and Rectal Surgery
Frederick Memorial Hospital
Frederick, Md.