Ahkeel Allen M.D.
Class of 2013 - Ft. Pierce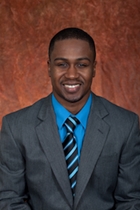 Status: Currently Practicing
General Surgery
Resident: General Surgery Residency Program
Medical Center of Central Georgia
Macon, Ga.
Completion Year: 2018
Was chief resident
Fellowship: Surgical Oncology Breast Fellowship
Jackson Memorial Hospital
Miami, Fla.
Completion Year: 2019
Currently Practicing: Medical Director
Breast Care Center of Miami
Miami, Fla.