Jesse C Boodoo M.D.
Class of 2013 - Daytona Beach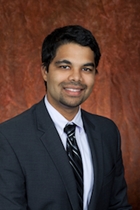 Status: Currently Practicing
Internal Medicine
Resident: Internal Medicine Residency
Palmetto Health Richland - University of South Carolina School of Medicine
Columbia, S.C.
Completion Year: 2016
Fellowship: Rheumatology Fellowship
University of Virginia
Charlottesville, Va.
Completion Year: 2018
Currently Practicing: Rheumatologist
Sarasota Arthritis Center
Sarasota, Fla.