Christina M Brown M.D.
Class of 2013 - Orlando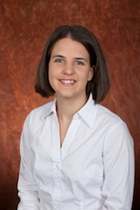 Status: Currently Practicing
Pediatric Anesthesia
Resident: Anesthesiology Residency Training Program
Barnes-Jewish Hospital
St. Louis, Mo.
Completion Year: 2017
Fellowship: Pediatric Anesthesiology Fellowship Program
Oregon Health & Science University
Portland, Ore.
Completion Year: 2018
Currently Practicing: Pediatric Anesthesiologist
The Hospital of Central Connecticut-Hartford HealthCare
New Britain, Conn.