Tanya E Anim M.D.
Class of 2010 - Daytona Beach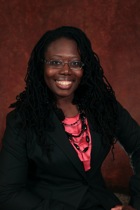 Status: Currently Practicing
Family Medicine
FSU College of Medicine Faculty
Resident: Family Medicine
Halifax Medical Center
Daytona Beach, Fla.
Completion Year: 2013
Was chief resident
Fellowship: Women's Health Fellowship
AdventHealth Tampa
Orlando, Fla.
Completion Year: 2014
Currently Practicing: Family Physician
Florida State University College of Medicine-Lee Health
Fort Myers, Fla.