Jeremy C Jones M.D.
Class of 2011 - Ft. Pierce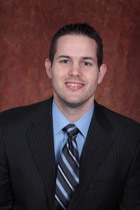 Status: Currently Practicing
Hematology/Oncology
FSU College of Medicine Faculty
Resident: Internal Medicine Residency Program
University of Texas Southwestern Medical Center
Dallas, Texas
Completion Year: 2014
Fellowship: Hematology/Oncology Fellowship
Mayo Clinic
Rochester, Minn.
Completion Year: 2017
Currently Practicing: Hematologist and Oncologist
Mayo Clinic
Jacksonville, Fla.