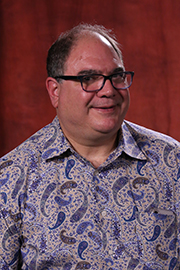 John E Agens Jr., M.D.
Education Director Geriatrics - Tallahassee
(850) 644-2250
Main Campus
Job Description
2014-present Dr. Agens has served as Education Director for the Primary Care Geriatrics Clerkship, a 4th year required course, for the six regional campuses working with each Regional Campus Clerkship Director. Dr Agens is the Tallahassee Regional Campus Clerkship Director for Primary Care Geriatrics. He collaborates to develop and deliver the geriatric components of curriculum for all four years. He also teaches in the context of direct patient care though FSUSeniorHealth.
Biosketch
Prior to coming to Florida State University College of Medicine full time in 2008, Dr. Agens spent over five years as director of the Center for Chronic Care at Capital Health Plan in Tallahasee, which delivered intensive primary care to its sickest patients. During that time he served as community faculty for multiple clinical rotations at Florida State University College of Medicine. Prior to that he served for 10 years as a geriatrician at Midelfort Clinic-Mayo Health System in Eau Claire, Wisc. Prior to moving to Wisconsin, Dr. Agens started and operated a solo internal medicine practice in his hometown of Blackwood, N.J. Dr. Agens has taught and mentored medical students and residents as clinical preceptor throughout his career. Dr. Agens currently serves and has served as Clerkship Director Tallahassee Regional Campus for the required 4th year Geriatrics Clerkship since 2008. He begins in his role of Education Director for all six campuses in May 2014. He teaches in the context of patient care while seeing geriatric patients at FSUSeniorHealth.
Education
B.A., 1982, Psychology - Rutgers Camden College of Arts and Sciences, Camden, N.J.
M.D., 1986 - Rutgers Medical School, Piscataway, N.J.
Residency, 1989, Internal Medicine - Cooper Hospital University Medical Center
Service
Dr Agens currently serves on the Admissions Committee and Selection Committee for the Florida State University College of Medicine as well as the Promotions Committee. He serves as chair of the Student Evaluation and Promotions Committee as well. He is a board member of the Florida Geriatrics Society. Nationally he serves on the Quality and Performance Measurement Committee of the American Geriatrics Society (AGS) and serves on behalf of AGS as an advisor the Relative Value Update Committee of the American Medical Association.
At Capital Health Plan, Dr. Agens served on the Clinical Content Committee for the electronic record, the Quality Improvement Committee (2003-2007), and the Practice Management Committee in 2006.
At Midelfort Clinic-Mayo Health System, he served on the Board of Directors from 1998 through 2002. In addition he served on the Open Access Process Management Committee, and the Finance Committee.

Honors/Awards
Special Recognition Award for Oustanding Service to the Quality and Performance Measurement Committee of the American Geriatrics Society
Top Performer for Colon Screening 2007 at Capital Health Plan
Outstanding Clinical Professor, FSU College of Medicine Tallahassee Regional Campus - 2006
Fellow of the American College of Physicians
Oustanding Service and Preceptor, Wisconsin Chapter of the American College of Physicians - 1995, '97 and 2002.
Ambulatory Care Award, Cooper Hospital Internal Medicine Residency Program, 1988-89
Memberships
American Geriatrics Society
American College of Physicians
Gerontology Society of America Florida Medical Association
Florida Geriatrics Society Capital Medical Society
Courses
Education Director
Doctoring 1,2, and 3 Faculty
Research Focus
Dr Agens is collaborating in the Geriatric Workforce Enhancement Program described as follows:The goal of this grant is a collaborative partnership among the university, community-based primary care, and community-based education organizations. It helps develop a health care workforce that maximizes patient and family engagement and improves health outcomes. Project 3 of that grant involves innovative patient and caregiver education designed interprofessionally based on client needs and delivered by fourth year medical students. Dr. Agens has been co-investigator with Dr. Quintero, MD (Department of Family Medicine and Rural Health) in the R01 AHRQ funded study "Identifying Adverse Events after Discharge from a Community Hospital", PI Dennis Tsillimingras. Dr. Agens has a special interest in subgroup analysis in that study for the subjects over 65 years old and medications that should be avoided or used with special care in that population. He has presented at national meetings "Medical Student Charting of Cognitive and Functional Status" looking at how medical students and physicians record geriatric problems in the medical record. He has also presented on outcomes data for the 4th year Primary Care Geriatrics Clerkship as Invited Presenter Day 1 and Invited Day 1 Program Co-Chair at 5th European Nutrition and Dietetics Conference and Exhibition on Nutrition: Nutrition 2016 June 18, 2016 in Rome, Italy. 'Fourth Year Medical Students' Required Patient Care Reflections in Patients with Advanced Illness and Complete Functional Assessment. Are They Including Nutritional Status?' In another international conference October 2015 he presented 'Fourth year medical students required written patient care assignments reflecting awareness of use of Vitamin D in older patients at risk for falling.' Plenary presentation at 4th International Conference and Exhibition on Nutrition, Chicago, IL. Dr. Agens' past work has centered on measuring improved patient function as a result of implementation of the patient-centered medical home for patients with multiple chronic illnesses, medical errors post hospital discharge, using patient self-reported health to predict mortality, patient centered-medical home, use of physical restraints in institutional settings, and physician awareness of Vitamin D deficiency.
Publications
Agens, J. E., Appelbaum, J. S., Baker, S., Brummel-Smith, K., Friedman, E., Harrison, S. L., Kutner, M., & McKenzie, J. (2016). Fourth-Year Medical Student Charting of Older Persons' Cognitive and Functional Status. Family Medicine, 48, 61-63.
Agens, J. E., Tsilimingras, D., Bishop-Royse, J., & Schnipper, J. L. (2013). Identifying Adverse Events after Discharge from a Community Hospital. J Am Geriatr Soc, 61, S52-S52.
Tsilimingras, D., Schnipper, J., Duke, A., Agens, J., Quintero, S., Bellamy, G., Janisse, J., Helmkamp, L., & Bates, D. (2015). Postdischarge Adverse Events Among Urban and Rural Patients of an Urban Community Hospital: A Prospective Cohort Study. Journal of General Internal Medicine, 30 (8), 1164-71.
Agens JE, Galasko GT, Purandare AV, and Lin J (2012). Awareness of vitamin D deficiency states and recommended supplementation doses: Survey of faculty and staff at a medical school. e-SPEN Journal.
Agens, JE (2011). To D or not to D in the older person, that is the question. British Journal of Medical Practitioners, 3(4):a352. http://www.bjmp.org/files/2010-3-4/bjmp-2010-3-4-a352.pdf
'Chemical and Physical Restraints in the Older Person' British Journal of Medical Practitioners 2010; 3(1):302
'The Aging of the Baby Boomers and the Future of Physician Practices' Summer 2009 issue of the Florida Medical Magazine of the Florida Medical Association
'Improvement in SF36 Scores in a Geriatrician-Led Chronic Care Model for Patients Selected as High Risk in an HMO' poster for the American Geriatrics Society.