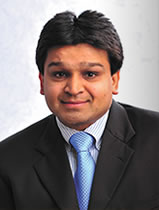 Sandeep R Rahangdale M.D.
Regional Campus Dean, Tallahassee
(850) 645-1232
Tallahassee Regional Campus
Job Description
Dr. Rahangdale is responsible for overseeing the clinical education of third- and fourth-year medical students at the FSU Regional Medical School Campus in Tallahassee. He works closely with the clerkship directors for each specialty, the Tallahassee medical community, and faculty and staff to ensure the quality of the clinical education program.
Biosketch
A graduate of the University of North Carolina School of Medicine, Dr. Rahangdale has focused on the practice and administration of medicine in Florida since 1997. As an advocate for both patients and organized medicine throughout his career, he has worked to improve Veteran's healthcare, Correctional HealthCare, and Public Health at the state and national level, in addition to maintaining his private practice in preventive cardiology and internal medicine, as well as teaching at FSU COM (since 2003).
Education
B.S. Behavioral Neuroscience – Cum Laude, University of Pittsburgh
B.A. History & Philosophy of Science – Cum Laude, University of Pittsburgh
Doctor of Medicine, University of North Carolina School of Medicine
Residency (partial), University of North Carolina Hospitals, Chapel Hill, NC, Diagnostic Radiology
Internship, University of North Carolina, Moses Cone Memorial Hospital, Greensboro, NC, Internal Medicine
Residency, University of North Carolina, Moses Cone Memorial Hospital, Greensboro, NC, Internal Medicine
Service
Troop Surgeon - Florida Highway Patrol, Troop H (Headquarters)
Capital Medical Society
OEF/OIF Veterans' Advocacy, including Vera Institute for Justice programs, PTSD/TBI/Substance Abuse Treatment
Florida NAMI; SOF Office of Suicide Prevention programs
Honors/Awards
Chancellor's Scholar, University of Pittsburgh
UNC Alternative Third-Year Research Curriculum, 1 of 5 students selected
Dean's Foreign Fellowship Research Grant, 1 of 10 students selected
UNC-NIH Summer Research Grant
MacArthur Foundation Research Grant
Honors in Internal Medicine, Ob-Gyn, Pediatrics, Psychiatry, and Family Medicine Third-Year Clerkships
Prudential-Davis Productivity Awards, State of Florida
Tallahassee Memorial Healthcare I-CARE Award Recipient
Memberships
American Board of Internal Medicine
American Society for Preventive Cardiology
Capital Medical Society
Florida Medical Association
Research Focus
Pathophysiological Relations in Alzheimer's and Parkinson's Diseases
Neurogenic Control of Arterial Blood Pressure
Quantification of Coercion in Psychiatric Patient Settings
Analysis of Primary Health Care Services in Central India
CLAHE Enhancement of Mammographic Images
Vascular Biology & Preventive Cardiology
Publications
Rahangdale SRN, Castillo M, Shockley W. MR IN Squamous Cell Carcinoma of the Lacrimal Sac. AJNR 16:1262-64, 1995 June.
Hunter T, Bragg D. Radiographic Guide to Medical Devices and Foreign Bodies. Book Review, Rahangdale SRN. Investigative Radiology, 1994 November. Presentations at numerous clinical symposia including Sacred Heart Hospital (Pensacola) APPFP Annual Symposia, West Florida Hospital Geriatrics Conference (Pensacola), Tallahassee Memorial Hospital Cardiology Grand Rounds, Capital Area Physician Assistants Meetings, Capital Nurse Practitioner Association Meetings, Annual Southeastern Retinal Associates Symposia, and others.