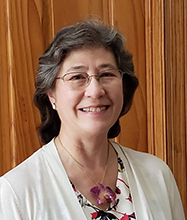 Alice K Pomidor MD, MPH, AGSF
Professor
(850) 644-0352
Main Campus
Job Description
Dr. Pomidor is a block co-director for the Musculoskeletal/Dermatology curriculum and also teaches in many settings for the College of Medicine, including as a small-group facilitator, lecturer, Clinical Learning Center faculty, community-practice site clinical preceptor, OSCE examiner, geriatrics-curriculum integration coordinator, and geriatrics rotation teaching attending. Her role as an advisor includes individual student advising for the first two years of medical school classes, student project advising, and student organization faculty sponsorship.
Biosketch
Dr. Pomidor is a family practice geriatrician who has been actively involved in the clinical teaching of medical students, residents, and fellows for 30 years. She teaches frequently on a variety of topics in geriatrics including older adult driving, physical activity, nutrition, wound healing, and falls prevention. Her research interests include older adult driving outreach and education, geriatrics education, and the use of educational video games and technology to teach geriatric concepts. She is a former geriatrics fellowship director and also served previously as a division chief of geriatrics, as well as a medical director at multiple retirement and long-term care communities.
Dr. Pomidor currently participates in a number of community activities, including serving on the Safe Mobility for Life Coalition in Florida and as former president of the Florida Geriatrics Society. She is a past chair of the Public Education Committee for the American Geriatrics Society and served on the Board of the local Alzheimer's Project. She also works clinically for FSU Senior Health in Tallahassee.
Education
Northwestern University Honors Program in Medical Education, Feinberg School of Medicine, Chicago, IL
West Side Family Practice Residency, Akron General Medical Center, Akron, OH
MetroHealth Medical Center, Geriatrics Fellowship, Cleveland, OH
Fellowship in Academic Medicine, Northeastern Ohio Universities College of Medicine, Rootstown, OH

Service
Florida Safe Mobility for Life Coalition, 2011 to present
Florida Geriatrics Society, President, 2010-2011
Florida Senior Falls Prevention Coalition Member, 2010 to 2014
American Geriatrics Society, Chair and member, Public Education Committee, 2005 to 2018

Honors/Awards
American Geriatrics Society Fellow, 2014
Leading the Way Award recipient, Alzheimer's Project, Tallahassee, FL, 2009
Outstanding Committee Member, American Geriatrics Society Public Education Committee, 2007 and 2008
David D. Lowenthal Founders' Award, Florida Geriatrics Society, Outstanding Geriatric Research Poster, 2005
Northeastern Universities College of Medicine Office of Geriatric Medicine/Gerontology, Excellence in Medical Education Service Award, 2003-4
Top 50 Hospitals ranking in US News & World Report, 2002 and 2003, Akron General Medical Center, Section Chief, Geriatrics
Commendation, Ohio State House of Representatives, 123rd General Assembly, for service to the community, 2001
Memberships
American Geriatrics Society
Florida Geriatrics Society
Florida Medical Association

Research Focus
Older Adult Drivers
Geriatric Education
ElderQuest© – an educational video game that teaches geriatric concepts
Publications
American Geriatrics Society & A. Pomidor, Ed. (2016, January). Clinician's Guide to Assessing and Counseling Older Drivers, 3rd Edition;.(Report No. DOT HS 812 228). Washington, DC: National Highway Traffic Safety Administration.
G. Sullivan and A. Pomidor, eds. Exercise in Aging Adults: A Guide for Practitioners. Cham, Switzerland: Springer International. 2015.
Pomidor AK. Older Adults, in: Florida Department of Health and Florida Medical Association, Jordan JG, ed. Healthy Weight: A Life Course Approach. 2014
Carr D, Pomidor AK, Schwartzberg J. Driving in the older adult. Ch 48. In: Arenson C, Busby-Whitehead J et al, editors. Reichel's Care of the Elderly, 6th edition. Cambridge University Press, Americas, 2016.
Pomidor AK. Driving. Ch 35. In: Ham RJ, Sloane PD, Warshaw GA, et al, editors. Primary Care Geriatrics: A Case-Based Approach, 6th edition. Elsevier Saunders, Philadelphia, 2014.
Kobylarz FA, Pomidor AK, Pleasant A. Health literacy as a tool to improve the public understanding of Alzheimer's disease. Annals of Long Term Care 2010;18:34-40.
Pomidor WJ, Pomidor AK. Essay: "With great power…" The relevance of science fiction to the practice and progress of medicine. Lancet 2006; 368 Suppl 1:S13-S14.
Kobylarz FA, Pomidor AK, Heath JM. SPEAK: a mnemonic tool for addressing health literacy concerns in geriatric clinical encounters. Geriatrics 2006;61:20-6.