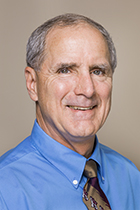 Luckey M Dunn M.D.
Regional Campus Dean, Daytona Beach
(386) 252-0601
Daytona Beach Regional Campus
Job Description
Dr. Dunn is responsible for overseeing the clinical education for third- and fourth-year medical students at the FSU College of Medicine's regional campus in Daytona Beach. He works closely with the clerkship directors, the Daytona Beach medical community, and faculty and staff to ensure the quality of the clinical education department.
Biosketch
Dr. Dunn was a private-practice family doctor and medical director for the city of Daytona Beach for more than 14 years. He was valedictorian at the U.S. Air Force Academy in 1976 and has been an attending physician with the Halifax Medical Center family medicine residency program. He also was a United States Soccer Federation-certified referee and coached the boys' and girls' soccer teams at Warner Christian Academy from 2002-2007. Dr. Dunn spent 21 years in the Air Force Active Duty and Reserve.
Education
B.S. Chemistry, Life Sciences, United States Air Force Academy, 1976
M.D. University of Florida School of Medicine, 1980
Family Medicine Residency: Malcolm Grow Medical Center, Andrews AFB, MD 1980-1983
Service
Member, ACT Board 1993-2000
Chairman, ACT Board 1999
Elder Christ Community Church, 1994-2004, 2008-Present
Florida Health Care Plan Board of Directors, 1994-2008
Florida Health Care Plan/Blue Cross Blue Shield Advisory Board, 2008-2010
Chairman, Halifax Medical Center P&T Committee, 1994-Present
Chairman, Halifax Medical Center Quality Council, 1995-Present
Boys/Girls varsity soccer coach, Warner Christian Academy, 2002-2007
Port Orange Soccer Club boys competitive coach, 1994-2007
United States Soccer Federation Certified Referee, 2000-2010
Honors/Awards
Valedictorian, Class of 1976, USAF Academy
Distinguished Graduate, Class of 1976, USAF Academy
Retired USAF Reserves, Lt.Col. Feb 1998 - 21 years AD/RES Service
Memberships
Volusia County Medical Society
Florida Medical Association
American Academy of Family Physicians
Christian Medical and Dental Society
Association of Military Surgeons of the United States
USAF Academy Association of Graduates