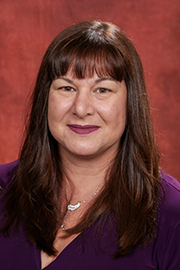 Nicole Bentze D.O.
Regional Campus Dean - Sarasota
(941) 316-8120
Sarasota Regional Campus
Job Description
Dr. Bentze is responsible for overseeing the clinical education of third- and fourth-year medical students at the FSU Regional Medical School Campus in Sarasota. She works closely with the Clerkship Directors for each specialty, the Sarasota medical community and the campus administrative staff to ensure the highest quality of the clinical education program.
Biosketch
Nicole Garofola Bentze, D.O., FAAFP, FAMWA is a board-certified family physician and Dean of the Sarasota Regional Campus of the Florida State University College of Medicine. Dr. Bentze is a graduate of Philadelphia College of Osteopathic Medicine (PCOM) and trained at the Harrisburg Family Medicine Residency Program, in Harrisburg, Pennsylvania. Her interest in medical education led her to complete a postgraduate primary-care faculty development fellowship at Michigan State University College of Human Medicine and the Society of Teachers of Family Medicine (STFM) Medical Student Educators Development Institute Fellowship.

Dr. Bentze served as Family Medicine Clerkship Director for third- and fourth-year FSU College of Medicine students for 10 years. From 2006 to 2016, she was in private practice with Intercoastal Medical Group in Lakewood Ranch, Florida. In 2016, she left her primary-care practice to dedicate her skills and experience to academic medicine full time. She taught and mentored residents in training at Manatee Memorial Hospital until the fall of 2018. In 2022, Dr. Bentze completed the American Academy of Family Physicians (AAFP) Leading Physician Wellness Certificate Program.

Dr. Bentze resides in Lakewood Ranch, Florida, with her husband (also a family physician) and two children.
Education
B.S., The College of New Jersey, 1996
D.O., Philadelphia College of Osteopathic Medicine, Philadelphia 2000
Harrisburg Family Medicine Residency Program, Harrisburg, Pennsylvania 2000-2003
Michigan State University College of Medicine, OMERAD Primary Care Faculty Development Fellowship, East Lansing, Michigan 2004
Society of Teachers of Family Medicine (STFM), Medical Student Education Development Institute Fellow, 2016
American Academy of Family Physicians (AAFP), Leading Physician Wellness Certificate Program, 2022
Honors/Awards
Society of Teachers of Family Medicine (STFM) Resident Teacher Award (2003)
Harrisburg Family Practice Residency Out-Patient Preceptor of the Year Award (2004)
Florida Academy of Family Physicians Part-Time Educator of the Year Award (2011)
Fellow, American Academy of Family Physicians (2014)
Fellow, American Medical Women's Assocation (2022)