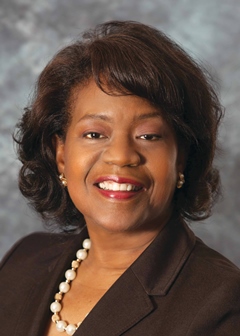 Juliette Lomax-Homier M.D.
Campus Dean, Fort Pierce Regional Campus
Ft. Pierce Regional Campus
Job Description
Dr. Lomax-Homier is responsible for overseeing the clinical education for third- and fourth-year medical students at the FSU College of Medicine's regional campus in Fort Pierce. She works closely with the clerkship directors, the Treasure Coast medical community, and faculty and staff to ensure the quality of the clinical education. Dr. Lomax-Homier is also responsible for introducing the surrounding communities to the mission of the Florida State University College of Medicine and it's importance to ensure there remains options of exceptional health care services for the underserved and rural communites as well as our elders.
Biosketch
Dr. Lomax-Homier completed her residency in Obstetrics and Gynecology at the Boston City Hospital, completing her Chief Resident year in 1986. She relocated to Fort Pierce Florida after residency to fufill a committment to the National Health Service Corps from 1985-1989 . As a staff obstetrician and gynecologist at a Federally Qualified Health Center in Fort Pierce, Florida she served the underserved and migrant population of Fort Pierce. She founded Just Ladies Healthcare , PA as a solo Obstetrician Gynecologist in Fort Pierce in 1989, growing the practice to four Obstetrician Gynecolgists .The practice transitioned to gynecology only in 2002. Dr. Lomax-Homier became the first Clerkship Director in Obstetrics and Gynecology for the Fort Pierce Regional Campus of the Florida State University College of Medicine in 2007 and served in that capacity until she transitioned into the role of Regional Campus Dean.
She and her husband Greg are the proud parents to one daughter.
Education
Boston University - College of Liberal Arts, B.A., 1978
Boston University School of Medicine, M.D., 1982
Obstetrics and Gynecology Residency - Boston City Hospital, Boston, Massachusetts, 1982-1985
Administrative Chief Resident - Boston City Hospital, 1985-1986
Clerkship Director School, American Professors of Obstetrics and Gynecology 2007, 2008
Service
She has had committee experience at Lawnwood Regional Medical Center:
Chief of Obstetrics and Gynecology and Vice Chief of Obstetrics and Gynecology
Chairman of Credentials Committee
Chairman of Quality Assurance Committee

Health South Atlantic Surgery Center Board Member
Florida Atlantic University Treasure Coast Advisory Board, 2005-2007
Healthy Start Advisory Board, 2001-2003
Gulfstream Business Bank Advisory Board, 2006-2014
Community Service- Community lectures on women's health issues, as well as teenage contraception
Member of Alpha Kappa Alpha Sorority, Incorporated Eta Eta Omega Chapter 1989-present
Member - Fetal and Infant Mortality Review Team 2017-2018
Indian River Medical Center Board of Directors 2016-2019
Cleveland Clinic Indian River Hospital Board of Directors 2019-present
Impact 100 2018-present
Honors/Awards
Service Award from the National Public Health Service Corps, 1989
Extra Mile Award, Class of 2010, FSU College of Medicine Fort Pierce Regional Campus
Gold Humanism Society 2016
Memberships
Fellow of The American College of Obstetrics and Gynecology.
Certified 1989, Recertified 1999, 2000, 2010 and now annually through the Maintainence of Certification process.
National Medical Association