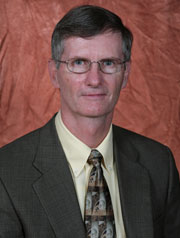 John P Fogarty M.D.
Dean & Professor
(850) 644-1346
Main Campus
Job Description
As Dean of the College of Medicine, Dr. Fogarty is responsible for both administrative and academic affairs. He may delegate certain tasks to others, but he is ultimately responsible for fulfilling the mission of the College of Medicine and providing a quality medical education for its students. He answers directly to the President and the Provost.
Biosketch
Dr. John ("J.") Fogarty assumed the role of Dean of the FSU College of Medicine on August 8, 2008. He had previously served as Senior Associate Dean for Operations and Associate Dean for Primary Care at the University of Vermont College of Medicine. Dr. Fogarty is Board Certified in Family Medicine and is a Fellow of the American Academy of Family Physicians.
A family physician and graduate of the U.S. Military Academy at West Point, Fogarty earned his medical degree from Albany Medical College of Union University in Albany, N.Y., and completed his family practice residency at DeWitt Army Hospital in Fort Belvoir, Va. Dr. Fogarty spent the first 20 years of his career as an Army family physician and academic leader, rising to the rank of colonel and serving the last five years of his military career as chair of family medicine at the Uniformed Services University School of Health Sciences in Bethesda, MD. In that position he oversaw nine clinical clerkship sites in six states in an educational model similar to FSU's system of regional campuses based in six Florida cities. Fogarty joined the University of Vermont College of Medicine in 1995 as chair and physician leader of family medicine and was appointed associate dean for primary care in 2006. He was then also appointed interim dean of the college, and over the next 15 months provided stable leadership during the search for a permanent dean. During his tenure, new chairs in medicine and surgery were recruited as well as the president of the faculty practice; the entering class of medical students grew in numbers as well as quality measures; and the college completed a successful Liaison Committee on Medical Education (LCME) re-accreditation. In 2007, Fogarty was honored by the Vermont Academy of Family Physicians as Vermont Family Physician of the Year and also received the Distinguished Service Award from the Vermont Medical Society, the highest honor the society bestows, for meritorious service in the science and art of medicine, as well as for outstanding contributions to the medical profession, its organizations and the welfare of the public. Dr. Fogarty is active in the practice of his specialty, and is interested in preventive and behavioral issues for families and medical students, sports medicine, and primary care research. He has been an active teacher throughout his career and has actively promoted medical student curricular redesign and improvement. He has served since 2010 as Chair of the Council of Florida Medical School Deans, a unique collaborative group of the now 10 allopathic and osteopathic schools in Florida to work on common issues. He has served on the Governing Council of the Section on Medical Schools of the AMA for 4 years, including serving as its Chair for a year. He was a member of the LCME, the national accrediting body of US and Canadian medical schools, for 6 years and served as Chair of this body in 2015-16. He is the author of multiple articles and book chapters and has given over 100 national and international lectures and presentations on ambulatory care and family practice topics to physicians, nurses, physician assistants and medical soldiers. He has received multiple military and civilian awards and honors and is a member of both AOA and the Gold Humanism Honor Societies. He was appointed as Professor of Family Medicine and Dean in August 2008.
Education
B.S. - United States Military Academy, West Point, N.Y., 1971
M.D. - Albany Medical College of Union University, Albany, N.Y. 1975
Internship - Family Practice, DeWitt Army Hospital, Fort Belvoir, Va. 1975-1976
Residency - Family Practice, DeWitt Army Hospital, Fort Belvoir, Va., 1976-1978; Chief Resident, 1977-1978
Fellowship - Family Medicine Faculty Development Fellowship, part-time (1979-1980), University of North Carolina School of Medicine, Chapel Hill, N.C.
Honors/Awards
2018 FSU Chapman Chapter, Gold Humanism Honor Society, Faculty Inductee
2017 Albany Medical College Distinguished Graduate AOA Lecturer 2012 Alpha Omega Alpha Honor Medical Society, FSU Faculty Inductee 2010 Golden Key, Faculty Inductee/Guest Speaker, FSU, Tallahassee, FL May 2010 2008 Invited Speaker, FSU COM "White Coat Ceremony", Class of 2012 Aug, 2008 2008 Professor of Family Medicine Emeritus, UVM College of Medicine 2008 John P. Fogarty, MD Leadership Award established at UVM. Annual COM Award for a graduating student demonstrating promise/leadership potential in Family Medicine 2007: Vermont Academy of Family Physicians Physician of the Year Award 2007: Vermont Medical Society Distinguished Service Award 2005: Pfizer/AAFP/F Visiting Professorship in Family Medicine 2001: Invited Guest Speaker, Vermont Boy Scouts of America Eagle Award Celebration, Montpelier, VT. Feb, 2001 2001: Invited Speaker, UVM COM "White Coat Ceremony, Class of 2004" Jan, 2001 2000: Northeast Region Recruiting Command Commander's Coin for Excellence and Service to the UVM ROTC Program and Department of Military Studies as Advisor and Surgeon 1998: Uniformed Services Academy of Family Physicians President's Medal 1995: USUHS 1995 William P. Clements, Jr. Outstanding Military Educator Award for Excellence in Education (Annual Medical Student Outstanding Teacher Award) 1995: Order of the USUHS Brigade Commander's Medallion 1995: USUHS Board of Regents Distinguished Service Medal 1995: Uniformed Services Academy of Family Physicians President's Award of Merit 1990: The Army Surgeon General's "A" Proficiency Designator (Professor Status) 1988: The US Army Surgeon General's 1988 Physician Recognition Award 1986: Order of Military Medical Merit (US Army Medical Corps Honor Society) 1984: Fellow, American Academy of Family Physicians 1980: Family Practice Residency "Staff Teacher of the Year", Ft. Belvoir, VA 1971: USMA PHI KAPPA PHI Honor Society