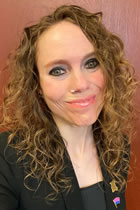 Xan Nowakowski Ph.D.,M.P.H.
Assistant Professor
(407) 777-4085
Orlando Regional Campus
Job Description
I conduct a variety of research, teaching, and service activities focused on healthy aging with complex chronic conditions. This includes serving as the evaluator for the Florida Asthma Program and the REACH Geriatrics Workforce Enhancement Program, providing qualitative methods oversight for the ACTS 2 dementia caregiver support project, helping to build aging research partnerships with the COM and various community organizations in Central Florida, mentoring students from a variety of health disciplines who are building practice and inquiry skills in person-centered chronic disease management, and collaborating on a variety of projects that amplify the voices of health care providers and their patients. I emphasize inquiry with and advocacy for populations often marginalized in health services, especially people who identify as queer and/or trans. To all of my work I bring the consciousness of both academic training in public health and medical sociology; and lived experience with cystic fibrosis and post-traumatic stress disorder.
Education
PhD, Medical Sociology, Florida State University, December 2013
MS, Medical Sociology, Florida State University, May 2013
MPH, Health Systems and Policy, Rutgers University, October 2009
BA, Political Science, Columbia University, May 2005
Service
Community outreach:


Bithlo Transformation Effort Advisory Board (November 2017 - Present)
FSU COM Council on Diversity and Inclusion (July 2017 - Present)
Cystic Fibrosis Foundation (April 2017 - Present)
Orange County Community Health Improvement Board (November 2016 - Present)
Sociologists for Trans Justice (July 2016 - Present)
Havana Health and Wellness (October 2010 - Present)
Columbia Alumni Representative Committee (May 2005 - Present)
Editorial Board memberships:


The Qualitative Report (October 2017 - Present)
Inquiry (March 2017 - Present)
People Living with And Inspired by Diabetes (PLAID) (October 2015 - Present)
Sociological Spectrum (October 2015 - Present)
Professional mentoring:


Orange County Academy (October 2017 – Present)
Columbia University Odyssey Mentoring Program (September 2017 – Present)
VA Health System – Tampa Bay (July 2015 – Present)
Columbia College Women (June 2013 – Present)
University of Tampa (January 2013 – Present)
Florida State University (August 2011 – Present)
Florida A&M University (May 2011 – Present)
Peer review for 27 different interdisciplinary sociomedical journals

Founder and co-editor of Write Where It Hurts, a weblog on trauma informed scholarship
Honors/Awards
Honor societies:


Alpha Kappa Delta Honorary Society in Sociology
Delta Omega Honorary Society for Public Health
Golden Key International Honor Society
Awards:


Research Recognition Honoree (Florida State University, 2017)
Bernard D. Goldstein, MD Award (Rutgers University, 2009)
Memberships
National:


American Evaluation Association
American Geriatrics Society
American Public Health Association
American Sociological Association
Regional:


Mid-South Sociological Association
Southern Sociological Society
State:


BioFlorida
Florida Asthma Coalition
Florida Geriatrics Society
Florida Chronic Disease Prevention Coalition
Florida Health Equity Research Institute
Florida Public Health Association
Courses
Directed Individual Studies: * Sociomedical Research Methods * Health Data Analysis * Critical Academic Writing
Research Focus
Healthy aging with chronic disease. Experience, management, and development of chronic health conditions. Interdisciplinary research techniques and biopsychosocial elaboration models. Illness, identity, and embodied health. Cumulative inequality of health in care delivery settings and community built environments across the life course. Health-related quality of life and associated constructs, including pain, disability, and polytrauma.
Publications