Samantha M Pavlock
Med Student
Class of 2022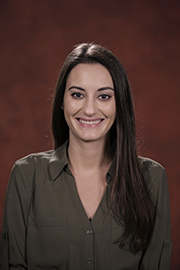 Hometown: Jupiter, FL
Undergraduate College: Florida State University
Samantha Pavlock graduated from Florida State University in 2010 with a Bachelor of Science in Psychology, minoring in Chemistry and Biology. During her undergraduate career, she was a member of the FSU First Responder Unit, where she was trained in emergency medicine and provided medical response during special events and sporting games. Following graduation, Samantha moved back to her home in Jupiter, FL, where she spent the majority of her time shadowing Dr. Raúl Arroyo, a General Surgeon at Jupiter Medical Center.
Samantha is the second M.D./Ph.D. student from Florida State University College of Medicine. She initially started medical school at Florida State in 2016 (c/o 2020). As an M1, she was a member of the HEAL editorial board, the historian for the Research Interest Group, and she founded the Women in Surgery Subcommittee of the Surgery and Anesthesiology Interest Group to address interests, concerns, and everyday experiences, both professionally and personally, that face woman entering the field of surgery.
Following her first year of medical school, she received FSU COM's Summer Research Fellowship to conduct a 10-week summer research project under Dr. Pradeep Bhide in the Biomedical Sciences Department. Samantha's project sought to understand the neurological mechanisms underlying "chemo brain" seen in breast cancer patients undergoing chemotherapy treatment, using a mouse model. After this fellowship, Samantha had become extremely passionate about her project and applied to obtain her Ph.D. in Biomedical Sciences. FSU COM does not have a standard M.D./Ph.D. degree program. However, the medical school developed a specialized, rigorous application process for her to obtain this degree. During this time, Samantha continued to work on her research project throughout her second year of medical school while completing all of her preclinical coursework and passing the USMLE Step 1 in 2018.
Samantha began the Ph.D. program in May of 2018 while obtaining a leave of absence from medical school to achieve this dual degree. Samantha successfully defended her dissertation titled "The effects of cyclophosphamide and naproxen on behavior, neuroinflammation, and neurogenesis" in June of 2020 and is set to graduate from the program in December of 2020. As a Ph.D. graduate student, Samantha has presented her research in oral and poster presentations at local, regional, national, and international meetings. During her first year, Samantha also served as the Treasurer of the Biomedical Sciences Student Graduate Association. Samantha also received the Bryan W. Robinson Endowment from the Tallahassee Memorial Hospital for neuroscience research and was a nominee for the international P.E.O. Scholar Award.
Samantha also has interests in health policy and holds leadership roles with the American Medical Association (AMA) and the Florida Medical Association (FMA). Samantha is a current alternate delegate to the AMA, one of four students from Florida elected by the medical student section (MSS) to represent the AMA-MSS at the AMA House of Delegates for the 2020-2021 term. Samantha is also the secretary of the Region 4 AMA-MSS Governing Council and the student representative on the FMA's Council on Medical Education, Science, & Public Health. Samantha has also participated in numerous advocacy days at the Florida Capitol with the FMA and the Florida Chapter of the American College of Surgeons (FCACS).
Samantha enjoys teaching and has mentored two first-year medical students during summer research fellowships. Samantha also taught multi-organ dissections to incoming Ph.D. students. She stayed active in the anatomy lab, teaching neuroanatomy dissections to second-year medical students and gross anatomy to incoming P.A. students. She has also sat on numerous undergraduate panels and attended outreach events for women in STEM and undergraduates interested in medicine. Samantha has also enjoyed spending her free time volunteering to stay grounded and give back to the community where she has regularly participated in free health care clinics, science fairs, and fundraising events.
Samantha is interested in a career in general surgery and has interests in oncology, cardiology, and trauma surgical subspecialties. Samantha's health policy interests include women's health, cosmetic safety, increasing biomedical research opportunities, and combating medical student burnout. Samantha's research interests include oncology and toxicology. Samantha's hobbies include running outdoors with her dog, boxing, yoga, and spending time with friends and family. Currently, Samantha has returned to medical school for her clerkship rotations and is set to graduate with the class of 2022.