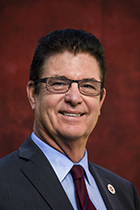 Jeffrey Joyce Ph.D.
Senior Associate Dean for Research and Graduate Programs, Professor Biomedical Sciences
(850) 644-2190
Main Campus
Biosketch
Dr. Joyce has been engaged in biomedical research, graduate education and research administration for more than 30 years. He has been a leader in interdisciplinary research programs at the University of Pennsylvania School of Medicine (Philadelphia) and Sun Health Research Institute (Sun City, Ariz.), where he served as associate director of Sun Health Research Institute, and senior scientist for the Thomas H. Christopher Parkinson's Disease Research Center. He also directed a center without walls for Parkinson's disease research. In 2007 he established the Division of Research at Maricopa Integrated Health System in Phoenix, where he served as director until 2012. He also was appointed research professor of neurology and psychiatry at the University of Arizona College of Medicine-Phoenix and associate professor in the School of Biological and Health Systems Engineering at Arizona State University (Tempe). In 2012 Dr. Joyce began serving as vice president for research and professor of pharmacology at Kansas City University. He assumed the role of senior associate dean for research and graduate programs in the College of Medicine at FSU in 2017.

An internationally known researcher and pharmaceutical consultant in central nervous system drug discovery, Joyce's work has led to target development for drug discovery in both schizophrenia and Parkinson's disease. He has published over 150 original papers and book chapters in a diverse arena of neuroscience topics. He has been awarded more than 25 federal, state and pharmaceutical industry grants and has served on multiple review boards for the National Institutes of Health, Veterans Administration, and Patient-Centered Outcomes Research Institute.
Education
B.S., Psychology/Biology Cognate, University of Illinois, Champaign-Urbana, Ill.
Ph.D., Psychology (concentration Physiological Psychology), University of Florida, Gainesville
Postdoctoral , NINDS Fellow, Department of Psychobiology, University of California at Irvine
Service
Scientific Review:
Journal of Research Administration, Editor-in-Chief (2013-2015), Chair of the Academic Review Board (2012)
Synapse, Editorial Board
Neuropsychopharmacology, Editorial Board
Neurotoxicity Research, Editorial Board

Grant Review:
American Association for the Advancement of Science (AAAS) Research Competitiveness Program panel member
Multidisciplinary Assessment Committee for the Canada Foundation for Innovation
Patient-Centered Outcomes Research Institute Review Panels: Assessment of Prevention, Diagnosis, and Treatment Options; Large Pragmatic Studies to Evaluate Patient-Centered Outcomes; Chair, Targeted PFA – Treatment of Multiple Sclerosis
Clinical Neuroplasticity and Neurotransmitters [CNNT] study section (2006-2007)
Neurodegeneration and the Biology of the Glia Study Section [NDBG] (2005-2007)
NIA ZAG1 ZIJ-9 (M3) Beeson Career Development- Special Emphasis Panel (2005-2007)
VA Merit Review Subcommittee – Chair, Neurobiology D. (2003-2007)
Department of Defense-Neurotoxin Exposure Program review panel (2002)
Reviewer for American Federation for Aging Research (1999-2003)

Memberships
National Organization of Research Development Professionals Health Care Compliance Association
Society of Research Administrators (SRA) International
American College of Healthcare Executives
Public Responsibility in Medicine and Research Society for Neuroscience
National Council of University Research Administrators

Research Focus
Over more than two decades of research, Dr. Joyce's area of focus has been in neuropharmacology, relating receptor pharmacology to the organization of transmitter systems in the brain and dysfunction. There have been three fundamental lines of research during his career. First, organization of monoaminergic and related neurotransmitter systems in the human brain and their alterations in schizophrenia. Second, the organization of dopamine (DA) receptors in the mammalian brain; particularly one subtype, the D3 DA receptor, its regulation and role in therapeutic response in schizophrenia. After 1995 this research theme was continued but focused on the role of D3 receptor preferring agonists to provide symptomatic relief in Parkinson's disease and neuroprotection against loss of DA fibers and cell bodies. Between 1986 and 1995, the research from Dr. Joyce's laboratories demonstrated that drug effects of antipsychotics could be dissected from disease processes. His work had major impact on the field of mental health and the biological substrates of schizophrenia and was awarded the prestigious Ziskind-Somerfeld Research Award for research into the biological substrates of schizophrenia by the Society for Biological Psychiatry in 1997. Another significant area of research was on drug targets for schizophrenia, and evidence that the DA D3 receptor was a key target for drug development, as changes in its regulation or expression were part of the "disease process" occurring with schizophrenia. That research has led to new drug development and was identified as a key contributor to policy change in mental health by Rand Corporation (Mental Health Retrosight, 2013, http://www.rand.org/pubs/research_briefs/RB9738.html).

From 1995 onward the focus for his research was in drug targets for improvement of Parkinson's disease. In addition to establishing consortia to support translational research in Parkinson's, his group established novel cell lines for study of dopaminergic cell death and neuroprotection and collaborated on novel rodent parkinsonian models. His longstanding interest in aging, neurodegenerative diseases and the role of the pre- and postsynaptic components of the DA system helped set the stage for his contributions to a better understanding of the clinical symptomatology in Parkinson's and loss of response to antiparkinsonian therapeutics. That research has contributed to the continued interest in developing D3 receptor preferring agonists for treatment of Parkinson's disease. Concurrent lines of research in his laboratory developed evidence that the D3 receptor also functioned to provide neuroprotection and/or neurorestoration of the presynaptic DA system with treatment with DA agonists. That work contributed to the continued interest in the importance of developing novel antiparkinsonian drugs that can produce neurorestoration as well as neuroprotection against the neurodegeneration of the DA system in Parkinson's disease.
Publications
Joyce, Jeffrey N. Developing a Sustainable Research Culture in an Independent Academic Medical Center. Journal of Research Administration [society publication of SRA International], 2013, Vol 44, No. 1, Pages 75-90.
Joyce, Jeffrey N. Regulatory compliance for research in an academic medical center. Compliance Today [Health Care Compliance Association monthly], Vol. 13, No. 12, Pages 29- 37, December 2011.
Joyce, Jeffrey N. and Millan, M.J. Dopamine D3 receptor agonists for protection and repair in Parkinson's disease. Current Opinion in Pharmacology 2007, 7:100–105.
Joyce, Jeffrey N. and Millan, M.J. Dopamine D3 receptor antagonists as therapeutic agents. Drug Discov Today. 2005 10(13):917-25.
Joyce, Jeffrey N. (2001) Dopamine D3 receptor as a therapeutic target for antipsychotic and antiparkinsonian Drugs. Pharmacology & Therapeutics 90(2-3):231-259.
Joyce, Jeffrey N. and Meador-Wooodruff, J.H. Linking the family of D2 receptors to neuronal circuits in human brain: insights into schizophrenia. Neuropsychopharmacol. 16:375-384,1997.