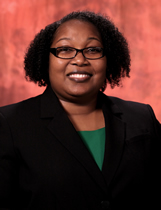 Kerwyn L Flowers D.O.
Assistant Professor, Director of Rural Medical Education, Director of Clinical Programs, Faculty Advisor-Florida Rural Health Association, Faculty Co-Advisor-Student National Medical Assoc.
(850) 645-9828
Main Campus
Job Description
Dr. Flowers joined the Department of Family Medicine and Rural Health in the spring of 2017. While currently serving as the Director of Rural Medical Education and the Assistant Director of Year 1 Clinical Skills, she also collaborates to develop and deliver content in the large group and small group setting. She is a member of the FSU COM Faculty Council, the Co-Faculty Advisor for the Student National Medical Association and serves on several committees including the Year 1/Year 2 and Year 3/Year 4 Curriculum Committees. In her clinical role, Dr. Flowers practices general family medicine and teaches in the context of direct patient care.
Biosketch
Prior to joining FSUCOM, she was a faculty member at the Floyd Medical Center Family Medicine Residency Program in Rome, GA. There, she participated in the training of residents and medical students in the inpatient and outpatient settings. At Floyd, she also served as the Director of Osteopathic Medical Education.
Dr. Flowers is a graduate of the Ohio University Heritage College of Osteopathic Medicine and completed her Family Medicine Residency at Akron City Hospital in Akron, OH. Following her training, Dr. Flowers spent several years in private practice in North Florida/South Georgia. In 2015, she completed a Fellowship in Academic Medicine at the Northeast Ohio Medical University. Dr. Flowers is a dually boarded in Family Medicine (AOA Board Certified in Family Medicine/OMT and ABFM Board Certified in Family Medicine).
Her special interests include musculoskeletal medicine, preventive healthcare, medical humanities, medical student education in clinical examination and diagnostic skills, patient partnership and empowerment, underserved medicine, and rural health.
Education
B.S., Florida A & M University, 1999
D.O., Ohio University Heritage College of Osteopathic Medicine, 2007
Family Medicine Residency, Akron City Hospital, 2010
Academic Medicine Fellowship, Northeast Ohio Medical University, 2015
Memberships
Florida Academy of Family Physicians
Florida Society of the American College of Osteopathic Family Physicians
American College of Osteopathic Family Physicians
American Osteopathic Association
American Academy of Family Physicians
Society of Teachers of Family Medicine
Capital Medical Society