Michael J Worley Jr, M.D.
Class of 2007 - Pensacola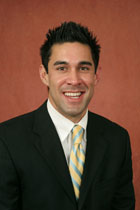 Status: Currently Practicing
Gynecologic Oncology
Resident: Obstetrics & Gynecology Residency Program
New York-Presbyterian Hospital (Cornell Campus)
New York, N.Y.
Completion Year: 2011
Fellowship: Gynecologic Oncology Fellowship
Harvard Medical School
Boston, Mass.
Completion Year: 2014
Currently Practicing: Gynecologic Oncologist and Assistant Professor
Brigham and Women's Hospital, Division of Gynecologic Oncology
Boston, Mass.