Johnny Washington M.D.
Class of 2008 - Pensacola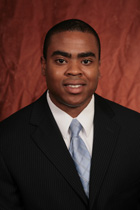 Status: Currently Practicing
Orthopedic Surgery
Resident: Orthopaedic Residency Program
Atlanta Medical Center
Atlanta, Ga.
Completion Year: 2012
Was chief resident
Fellowship: Orthopaedic Sports Medicine Fellowship
University of Illinois at Chicago
Chicago, Ill.
Completion Year: 2013
Currently Practicing: Assistant Professor, Department of Orthopaedic Surgery and Rehabilitation
UF Health-Jacksonville
Jacksonville, Fla.