Stacey M Lindo-Ukata M.D.
Class of 2008 - Pensacola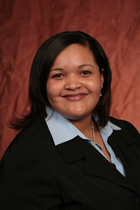 Status: Currently Practicing
Obstetrics-Gynecology
Resident: Obstetrics & Gynecology Residency Program
Memorial Health University Medical Center
Savannah, Ga.
Completion Year: 2012
Previous Practice: OB-GYN
Blue Ridge OB/GYN Associates
Raleigh, N.C.
Currently Practicing: Obstetrician and Gynecologist
Duke Women's Health Holly Springs
Holly Springs, N.C.