Sarah L Friend M.D.
Class of 2010 - Pensacola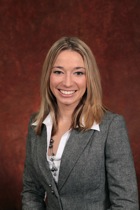 Status: Currently Practicing
Hematology/Oncology
Resident: Internal Medicine Residency Program
Orlando Health
Orlando, Fla.
Completion Year: 2014
Fellowship: Hematology/Oncology Fellowship
University of New Mexico Cancer Center
Albuquerque, N.M.
Completion Year: 2016
Currently Practicing: Assistant Professor, Hematology & Medical Oncology
Emory University School of Medicine
Atlanta, Ga.