Halei K Wong M.D.
Class of 2010 - Pensacola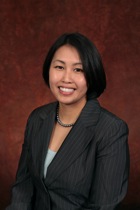 Status: Fellowship
Obstetrics-Gynecology
Military Service
Resident: Boonshoft School of Medicine - Wright State University
Wright Patterson Air Force Base
Dayton, Ohio
Completion Year: 2014
Fellowship: Female Pelvic Medicine Fellowship
University of Oklahoma College of Medicine
Oklahoma City, Okla.
Currently Practicing: OB-GYN
Eglin Hospital
Eglin AFB, Fla.