Kathleen A McGlynn M.D.
Class of 2011 - Pensacola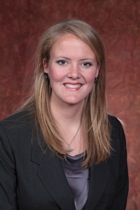 Status: Currently Practicing
Obstetrics-Gynecology
Gold Humanism Honor Society Member
Resident: Obstetrics & Gynecology Residency Program
St. Johns Mercy Medical Center
St. Louis, Mo.
Completion Year: 2015
Fellowship: Medical & Surgical NaProTechnology Fellowship
Pope Paul VI Institute
Omaha, Neb.
Completion Year: 2016
Previous Practice: Physician
Gianna Center of the Gulf South
Covington, La.
Currently Practicing: Obstetrician and Gynecologist
Bella Natural Women's Care & Family Wellness
Englewood, Colo.