David P Harris M.D.
Class of 2011 - Pensacola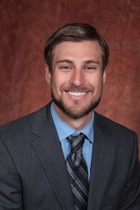 Status: Currently Practicing
Neurology
Preliminary Year: Neurology
SUNY Stony Brook University
Stony Brook, N.Y.
Completion Year: 2012
Resident: Neurology Residency Program
Thomas Jefferson University Hospital
Philadelphia, Pa.
Completion Year: 2014
Was chief resident
Fellowship: Neurophysiology/Clinical Epilepsy
Columbia Presbyterian Department of Epilepsy
New York, N.Y.
Completion Year: 2016
Currently Practicing: Clinical Instructor, Department of Neurology
University of Michigan Hospitals - Ann Arbor
Ann Arbor, Mich.