Carolina C Pereira M.D.
Class of 2012 - Pensacola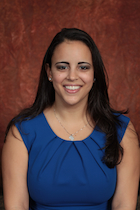 Status: Currently Practicing
Emergency Medicine
Resident: Emergency Medicine
Orlando Regional Healthcare
Orlando, Fla.
Completion Year: 2015
Fellowship: EMS / Disaster Medicine Fellowship
Fire Department of New York (FDNY) and Long Island Jewish Hospital
New York City, N.Y.
Completion Year: 2016
Currently Practicing: Assistant Professor - Department of Emergency Medicine
UF Health-Jacksonville
Jacksonville, Fla.