Catherine A Acob Almazan M.D.
Class of 2013 - Pensacola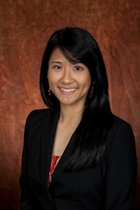 Status: Currently Practicing
Family Medicine
FSU College of Medicine Faculty
Resident: Halifax Health Family Medicine Residency Program
Halifax Health Medical Center
Daytona Beach, Fla.
Completion Year: 2016
Previous Practice: Family Physician
Halifax Health-Wellness Center
Daytona Beach, Fla.
Currently Practicing: Family Physician
Baptist Medical Group
Pensacola, Fla.