Brian L Bauerband M.D.
Class of 2013 - Pensacola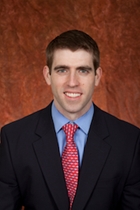 Status: Currently Practicing
Emergency Medicine
Resident: Emergency Medicine Residency Program
University of Alabama Medical Center - Birmingham
Birmingham, Ala.
Completion Year: 2016
Was chief resident
Previous Practice: Emergency Physician
Blount Memorial Hospital
Maryville, Tenn.
Currently Practicing: Emergency Medicine Physician
Roper Emergency Physicians
Charleston, S.C.