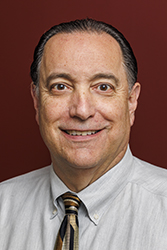 George Bernardo M.D.
Regional Campus Dean - Daytona Beach
Daytona Beach Regional Campus
Job Description
Dr. Bernardo serves as the Daytona Beach Regional Campus Dean. In this role, he oversees all campus functions including student education and performance, student counseling, and supervising clerkship directors. The regional campus dean's role at the FSU College of Medicine is unique as he plays an expanded role with students, including direct contact, comprehensive mentoring, and one-on-one interaction when needed. Additionally, fundraising is an increasingly important role of the campus dean in efforts to fund local operations and scholarships for students.
Biosketch
Dr. Bernardo has been in private practice in Port Orange, Fla., since 1991. He also is involved with the Halifax Hospital Family Residency Program.
Education
Halifax Medical Center Family Practice Residency, 1989-1991
Halifax Medical Center Family Practice Internship, 1988-1989
University of Florida College of Medicine, 1988
Program in Medical Science, FSU, 1985
Purdue University, 1982
Service
Halifax Insurance Plan, Inc.--Board Member
Clinical Asst. Professor--University of South Florida
Halifax Hospital Family Practice Residency--Part-time faculty
Memberships
American Academy of Family Physicians
Florida Academy of Family Physicians