ALZHEIMER'S CONFERENCE WAS A SUCCESS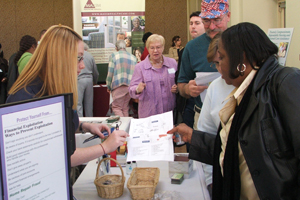 The Feb. 20 Alzheimer's Disease Education and Training Conference that took place at the College of Medicine was a big success, said Alice Pomidor, M.D., MPH, associate professor of geriatrics and one of the organizers. "There were about a hundred caregivers in the community who came to learn, attendees for continuing education, vendors from supportive organizations such as TMH and Elder Care Services, nine patients for respite care and over 20 volunteers," she said. "There were speakers from the College of Medicine, FSU, FAMU and multiple other people who all donated their time and energy. I heard so many people commenting on how proud they were of their College of Medicine, and much gratitude expressed for the entire event. There's really nothing else like it in the area that gives caregivers such a wonderful opportunity to learn from professionals, find out about support services and get some help." Read an account of the conference.
UPDATE ON HIV TRANSMISSION
On June 2 in Orlando, the College of Medicine regional campus is teaming up with Florida Hospital to sponsor a lecture by Myron Cohen, M.D., one of the world's top experts on HIV transmission. The title is "Transmission and Preventing Transmission of HIV: How did we get here and where are we going?" Cohen, from the University of North Carolina, is known as a dynamic and mesmerizing speaker. (For more information contact Joan.Bour@flhosp.org OR (407) 303-2858. 1 CME credit.)
'THE HEALTH REFORM WE NEED'
Arnold S. Relman, M.D., professor emeritus of medicine and social medicine at Harvard Medical School and former editor-in-chief of the New England Journal of Medicine, spoke April 7 at the College of Medicine about "The Health Reform We Need, and Are Not Getting." His soon-to-be-republished book, "Second Opinion," will outline an approach to rescuing American health care. Read his July 2009 article in the New York Review of Books. Listen to his College of Medicine talk.
IMPORTANT DATES COMING UP
* Awards ceremony: Thursday, May 13, 4:30 p.m., College of Medicine auditorium, followed by a reception in the atrium.
* Commencement ceremony: Saturday, May 15, 10 a.m., Christian Heritage Church, 2820 Sharer Road.
* Class of 2014 orientation: Tuesday, June 1-Friday, June 4.
IF A GREETING CARD IS NOT BIG ENOUGH...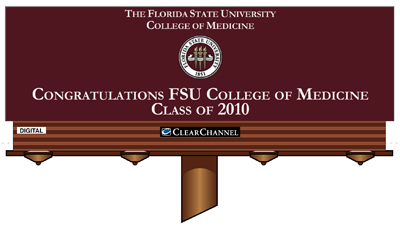 When you own a billboard company and you want to send a message, it's not difficult to get the world's attention. Meet Larry McIntyre, father of graduate-in-waiting Molly McIntyre and president of the Daytona Beach/Melbourne division of Clear Channel Outdoor. He wanted to send an attaboy message to the students who'd spent Years 3 and 4 at the Fort Pierce regional campus, and he really succeeded.