ALUMNI BOARD IS OFF AND RUNNING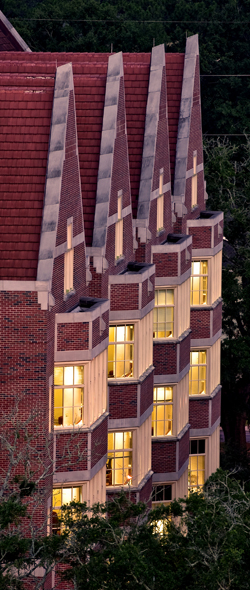 Amid the hugs, the tours, the food and the memories, the April 16 Alumni Reunion actually generated some news: For the first time, the new Alumni Board met. Its members include graduates of both the College of Medicine and its predecessor Program in Medical Sciences, and they range from the PIMS Class of 1975 to the medical school's currently graduating Class of 2011.

Led by President Michael J. Sweeney, M.D. (PIMS, 1975), they're enthusiastic about their new role. The College of Medicine's goal is to empower its alumni to engage in activities that will provide guidance, resources and support to medical students, alumni, faculty and staff. The board will meet every spring and fall and perform such duties as helping the college maintain an accurate alumni database and sharing their experience with current students.

After graduation day, the medical school will have 450 graduates – in addition to more than 800 graduates of PIMS, a program in which students completed their first year of medical education at Florida State before transferring to the University of Florida. The College of Medicine's mission builds upon the PIMS mission, and during the board meeting several PIMS alumni said their allegiance to Florida State has remained strong.

Besides Sweeney, the PIMS members on the board (all M.D.s) are Rick Sheridan, Class of 1976; Gordon Burtch, 1977; Scott Warren, 1981; Keith Ingram, also 1981; Floyd Jaggears, 1983; and Don Levine, 1991. Board members from the College of Medicine are Shannon Price (M.D., 2006), Chris Sundstrom (M.D., 2006), Tanya Anim (M.D., 2010) and two students who will graduate in May: Marlisha Edwards and Layla Lundquist-Smith.

Alexa Von Staden, alumni affairs and special-events coordinator, and Ryan Little, senior director for development, will assist Sweeney with alumni board management and other activities. For more information, please email alexa.vonstaden@med.fsu.edu or call (850) 645-9428.


FIVE WISHES
If you missed the reunion, you also missed out on an extraordinarily informative CME panel discussion about planning for future difficult medical decisions. The discussion was moderated by Marshall Kapp, J.D., MPH, director of the Center for Innovative Collaborative in Medicine and Law. The five-member panel included Ken Brummel-Smith, M.D., chair of the Department of Geriatrics, and Alumni Board President Michael Sweeney.

Some who attended resolved to take action and fill out the Five Wishes form right away. If you haven't done so, you might want to visit the Five Wishes website – and forward the link to a loved one.

GIFTS SUPPORT MEDICAL EDUCATION FOR FLORIDA'S FUTURE
We deeply appreciate the generosity of the College of Medicine's many friends. Without their financial support, many of the high-quality programs essential to our students' learning experience would be lost to budget adjustments necessary in today's financial environment. We extend our profound thanks to the many donors who've responded to help support this medical school since it was created in 2000.

The brick walkway surrounding the medical school's courtyard is filled with messages that donors have sent to past graduates. Personalized bricks are still available, and now there are more options than ever. The College of Medicine's Legacy Celebration Program offers other opportunities as well.

If you would like to discuss making a gift in support of the College of Medicine's vital role preparing new physicians to meet the challenges of Florida's health-care needs, please contact Wayne Munson, assistant dean for development, 850-644-4389.


WE LOVE UP-TO-DATE INFORMATION, ALUMNI
Remember that you can always update your contact information with the College of Medicine so you'll continue to receive our publications and find out about alumni activities. Plus, if you have new professional or personal information you'd like us to post in the "Class Notes" section of FSU MED magazine, email alexa.vonstaden@med.fsu.edu or call (850) 645-9428.


JOIN US ON FACEBOOK AND TWITTER
If you haven't already done so, please become a fan of the College of Medicine alumni Facebook page. There you can view our latest news, events and photos.

And here is a link to our Twitter page.