MINDY STEPHENSON
The College of Medicine was saddened to learn of the death of Air Force Capt. Mindy Stephenson (M.D.,'12) on May 15. A memorial fund has been set up in her name to assist the Daytona Beach Regional Campus with orientation. The fund has reached over $14,000 and will be established upon reaching $25,000. See the link above for more information.
ALUMNI PROFILE UPDATES
The College is working to update all alumni profiles with current contact information and encourages alumni to review their profiles in the Online Directory to receive special updates, event invites, EMR and the FSU MED magazine. Please contact Alumni Relations and Special Events Coordinator Chelsea Knott, 850-645-9428, with questions.
ALUMNI BOARD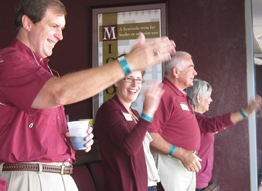 The Alumni Board serves as the link between the College of Medicine and its alumni base. It encourages participation in events, facilitates fundraising, promotes community involvement and sustains meaningful relationships.
The board is re-establishing itself to connect current medical students with alumni during their first years.
Plans are in the works for the College of Medicine Alumni Board to establish a Medical Student Alumni Association (MSAA). MSAA's objective will be to enhance students' medical school experience and to provide them with opportunities for personal and professional growth.
As members of the MSAA, students will have the opportunity to interact with alumni, benefit from mentoring relationships and attend special alumni events. The MSAA is a medical student's first step in a lifelong alumni relationship with the FSU College of Medicine. All current students will be able to join the MSAA for free.
If you are interested in becoming involved with the College of Medicine Alumni Board or volunteering your time and expertise, please contact Chelsea Knott.
Current Alumni Board members: Michael J. Sweeney, chair, M.D. (PIMS, '75); Rick Sheridan, M.D. (PIMS, '76); Gordon Burtch, M.D. (PIMS, '77); Keith Ingram, M.D. (PIMS, '81); Floyd Jaggears, M.D. (PIMS, '83); Scott Warren, M.D. (PIMS, '83); Don Levine, M.D. (PIMS, '91); Shannon Price (M.D., '06); Chris Sundstrom (M.D., '06); Tanya Anim (M.D., '10); Marlisha Edwards (M.D., '11); and Layla Lundquist-Smith (M.D., '11).
HOST PROGRAM
HOST was created to "Help Our Students Travel." If you live far away but wish to remain actively engaged with the College of Medicine and current students, consider joining the HOST program.
HOST matches fourth-year students with medical alumni across the country when they are traveling for their residency interviews between October and January. It is a unique and personal way to develop relationships and offer hospitality to future Florida State physicians.
As participants in HOST, alumni will lessen the financial burden of students traveling to multiple residency interviews across the country by opening their homes to students during this time. The program also provides an opportunity for students to learn more about the local medical community from their alumni host before interviewing.
MEDICAL EDUCATION FOR FLORIDA'S FUTURE
We deeply appreciate the generosity of the College of Medicine's many friends. Without their financial support, many of the high-quality programs essential to our students' learning experience would be lost to budget adjustments necessary in today's financial environment. We extend our profound thanks to the many donors who've responded to help support this medical school since it was created in 2000. If you would like to discuss making a gift in support of the College of Medicine's vital role preparing new physicians to meet the challenges of Florida's health-care needs, please contact Assistant Dean for Development Jim McNeill, 850-644-4389, Senior Development Officer Pam Wilson, 850-645-0390, or Development Officer Charlie Adams, 850-644-3353.
For more Alumni News, please see the upcoming FSU MED magazine's Class Notes.