FACULTY COUNCIL 2012-2013 FACULTY AND STAFF AWARDS
BIOMEDICAL SCIENCES
Associate Professor James Olcese, Ph.D., seen left with his lab, received a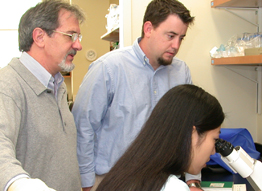 patent for "Oxytocin and melatonin compositions and associated methods for inducing labor."
Professor Mohamed Kabbaj, Ph.D., and Florian Duclot published "Individual differences in novelty-seeking predict subsequent vulnerability to social defeat through a differential epigenetic regulation of brain-derived neurotrophic factor expression," in the Journal of Neuroscience.
Assistant Professor Jose Pinto, Ph.D., was selected as this year's Stop Heart Disease Researcher of the Year by the Florida Heart Research Institute. The award comes with $25,000 for Pinto's research program.
Associate Professor Branko Stefanovic, Ph.D., was the guest speaker at the 18th Annual Kasha Award and Seminar Ceremony. He spoke on "Liver Fibrosis: Understanding the Molecular Mechanism and Finding a Cure."
CENTER FOR INNOVATIVE COLLABORATION IN MEDICINE AND LAW
Center Director and Professor Marshall Kapp, J.D., M.P.H., and Geriatrics Chair Kenneth Brummel-Smith, M.D., received a Supporting Innovation in Physician Orders for Life-Sustaining Treatment (POLST) Paradigm Expansion and Dissemination Grant (Cycle 3) from the Retirement Research Foundation, administered through the Oregon Health & Science University.
Kapp was also elected secretary of the Kendal Outreach Board for Kendal Corporation in Kennett Square, PA. Kendal operates a network of non-profit communities and services for older adults in eight states.
CLINICAL SCIENCES

Professor Jonathan S. Appelbaum, M.D., pictured right, has been named the Laurie L. Dozier Jr., M.D., Education Director and Professor of Internal Medicine. He is the first faculty member to hold the Dozier chair. Dozier practiced internal medicine and cardiology in Tallahassee for more than 30 years and gave $1 million to the College of Medicine, which established the Dozier chair in 2007.
Professor Amy Wetherby, Ph.D., pictured below, was awarded $50,000 by the university's Grant Assistance Program (GAP) for early detection and treatment of autism through a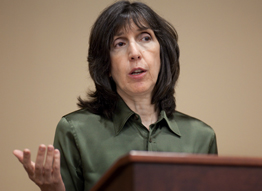 web-based system that helps parents and medical practitioners identify autism warning signs. In addition to her role as professor in the Department of Clinical Sciences, Wetherby is also director of the College of Medicine's Autism Institute.
Professor Gerry Maitland, M.D., and Assistant Professor John Giannini, M.D., were awarded grants from both the Marie A. LeDoux Foundation and Natural Alternatives International Inc. to work on an interdisciplinary research study with Michael J. Ormsbee, Ph.D., with the Department of Nutrition, Food and Exercise Sciences. They will study the impact of the beta-alanine nutritional supplement on human performance in patients with Parkinson's disease and multiple sclerosis.
FAMILY MEDICINE AND RURAL HEALTH
Assistant Professor Stephen Quintero, M.D., the preceptor for the Tallahassee Memorial Hospital (TMH) Family Practice Residency Program, was included in the Florida Hospital Association's Community Benefits booklet in a section on the TMH Transition Center. The center is a collaborative effort between TMH, Capital Health Plan and the College of Medicine.
The department's Rural Education Opportunity Program (REOP) received $50,000 from the Florida Blue Foundation. Florida Blue has been assisting the program since it began in 2010. REOP's goal is to increase student familiarity with rural health.
GERIATRICS
Associate Professor Antonio Terracciano, Ph.D., was a contributing author of a study that found a novel set of genetic associations with educational success. "GWAS of 126,559 individuals identifies genetic variants associated with educational attainment" was published in Science and carried out under the Social Science Genetics Association Consortium (SSGAC).