MEDICAL STUDENTS

GRADUATION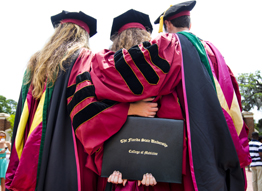 During the
Class of 2013 Graduation
Ceremony
on May 18, a total of 113
students received their M.D. degree, bringing the total number of College of Medicine graduates to 680. To view the
graduation video
, list of awards, military pinning, student honorees, commencement address and president's address, please use the link above.
Also during the ceremony 13 Bridge students received the Master of Science degree in Biomedical Sciences, making them a part of the College of Medicine's Class of 2017.
GOLD HUMANISM HONOR SOCIETY
The following regional campus students were inducted into the Gold Humanism Honor Society on Aug. 16.
Matthew Clark, Keerti Dantuluri and John Thomas (Daytona Beach).
Mia Klein and Ann Sheddan (Fort Pierce).
Angela Guzman (Green), Jessica Specht and Matthew Welsh (Orlando).

John Byrd, Naomi Salz and Richard Sims (Pensacola).
Colin Swigler (Sarasota).
Matthew Heimann, Judy Lin and Brett Thomas (Tallahassee).
ACCOMPLISHMENTS
Third-year Fort Pierce regional campus students made a donation to the HANDS Clinic of St. Lucie County in honor of the 2013 graduating class. HANDS provides primary care to uninsured adults and seeks to empower patients to participate in their health management.
Sanam Zahedi (Class of 2014) was awarded first place for Medical Student Poster - Research by the American College of Physicians for "The Incidence of Malignant and Premalignant Cutaneous Lesions Undetected by Patients Prior to Undergoing Total Body Skin Examination (TBSE) at a North Florida Dermatology Clinic."
Kulvir Nandra (Class of 2014) presented the poster "Demographic Trends of Transition Center Patients," co-authored by Assistant Professor Stephen Quintero, M.D., during the David A. Paulus Poster Symposium for the Florida Medical Association.
Kush Bhorania (Class of 2014) was awarded second place for Medical Student Poster - Research by the American College of Physicians.
Kelly Schwirian (Class of 2014) and Logan Blankenship (Class of 2016) received the Hearing the Ovarian Cancer Whispers Dr. Robert C. Knapp Student Awards for the 2013-2014 academic year.
Additional medical student awards are listed under Summary of Student Honorees on the 2013 graduation webpage.
GRADUATE STUDENTS AND POSTDOCTORAL FELLOWS
Zarko Manojlovic was one of five students across the university invited to present a poster at the annual Celebration of Graduate School Excellence. He also co-wrote a paper with Associate Professor John Blackmon (M.D.) published in PLOS ONE: "Tacrolimus (FK506) prevents early stages of ethanol induced hepatic fibrosis by targeting LARP6 dependent mechanism of collagen synthesis."
Manojlovic received the Myra M. Hurt Leadership Award for Graduate Students along with Oscar Cabrera and Brett Mulvey.
Liam Longo, a graduate student in the Blaber lab, was the Kasha Award recipient for his publication "Simplified protein design biased for pre-biotic amino acids yields as foldable, halophilic protein," which appeared in the Proceedings of the National Academy of Sciences.
Elise Cope was given the Randolph L. Rill Outstanding Senior Graduate Award and was nominated by the university for the Computer General Studies (CGS)/ProQuest 2013 Distinguished Dissertation Award in the biological and life sciences competition. Florida State University selects only one of many qualified students for this award.
Saad Abbasi received the Randolph L. Rill Outstanding Junior Graduate Award.
Florian Duclot received the 2013 Outstanding Achievement as a Postdoctoral Scholar Award.
Milica Vukmirovic received the 2013 Postdoc Leadership Award for outstanding leadership in postdoctoral affairs.
Helen Phipps' manuscript "Kallikrein-related peptidase 6: A biomarker for traumatic brain injury in rat," was accepted for publication in Brain Injury.
Gina O'Neal-Moffitt received the Osher Lifelong Learning Institute (OLLI) Scholarship.