Maguire honored as Great Floridian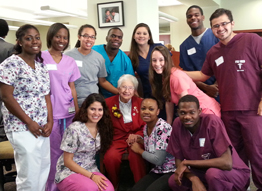 Charlotte Maguire, M.D., (seen left with Bridge students) received the Great Floridian award June 14. She is among a group that ranges from Walt Disney to Juan Ponce de León. Gov. Rick Scott describes each Great Floridian as a "true humanitarian and compassionate leader."

Weight gain tied to personality changes
Assistant Professor Angelina Sutin, Ph.D., was the lead author of "I Know Not To, but I Can't Help It: Weight Gain and Changes in Impulsivity-Related Personality Traits," which was published in Psychological Science and received global attention.

Researcher links social bonding to gene expression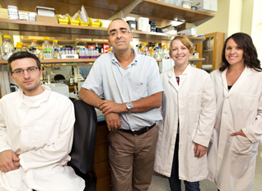 Professor Mohamed Kabbaj, Ph.D., (pictured right with his lab) made worldwide news after publishing "Histone deacetylase inhibitors facilitate partner preference formation in female prairie voles," co-authored with Hui Wang, Florian Duclot, Yan Liu and Zuoxin Wang in Nature Neuroscience.
Managing brain tumors might be best
Associate Professor Eric Laywell, Ph.D., received a grant from the National Institutes of Health to study a new drug and a new method for treating cancerous brain tumors.
Thumbs up for family medicine
The College of Medicine's new family medicine residency program at Lee Memorial Health System in Fort Myers has received good news from the Accreditation Council for Graduate Medical Education.
To learn more, read College of Medicine news in Print, from various news outlets around the world.