Read about other faculty achievements in Top Stories.
APPOINTMENTS, INVITATIONS & OTHER HONORS

Cathy W. Levenson, Ph.D., associate professor of biomedical sciences, was just appointed to the Institute of Medicine/National Academy of Sciences Committee on Nutrition, Trauma, and the Brain. The committee will meet three times a year for the next two years to write the recommendations for nutritional approaches to the treatment of traumatic brain injury.
Cathy Levenson also was recently invited to join the Editorial Board of Frontiers in Aging Neuroscience.
Richard Brunner, M.D., clerkship faculty member on the Rural Track in Marianna, has been named chief surgeon at Sacred Heart's new hospital in Port St. Joe, called Sacred Heart Hospital on the Gulf.

Jose I. Diaz, M.D., Ph.D., professor and course director of pathology in the Department of Biomedical Sciences, attended a scientific meeting April 21-23 in Monterrey, Mexico. He was invited as a guest speaker to give four seminars in a pathology symposium, "Advances in Molecular Pathology: Research and Diagnosis," sponsored by the University Autonoma of Nuevo Leon (UANL), Department of Pathology and UANL Research Cancer Center. The workshop was attended predominantly by pathologists but also by cancer researchers. The four one-hour seminars were:
1. "The Universe of Molecular Genetic Pathology: In Situ versus Test Tube Testing."
2. "Exploring the Human Proteome: The advantages of MALDI-TOF-TOF."
3. "Cancer Targeted Therapy and Its Implications in Diagnostic Surgical Pathology."
4. "Serum Cancer Biomarkers: The Discovery Process and the Early Detection Research Network Validation Strategies."
Paul Gaeta, M.D., clerkship faculty member at the Fort Pierce regional campus, recently received the Primary Care Physician of the Year Award for the Stuart area. One of 16 physicians nominated by their own patients, Gaeta was chosen unanimously for his commitment to his patients and his work with victims of the earthquake in Haiti. The award was established by the Stuart law firm of Crary Buchanan to honor family-practice and internal-medicine physicians in the community. The firm presented a plaque and gift certificate to Gaeta and gave Volunteers in Medicine Clinic a check for $2,500 in his honor. "The number of worthy nominees during this first year of the award has convinced us," managing partner Mike Crary told Scripps Newspapers, "that this award should continue annually."
Marshall Kapp, J.D., MPH, director of the Center for Innovative Collaboration in Medicine & Law, has been named a member of the American Medical Directors Association (AMDA) Foundation Scientific Council. The role of the council is to assist in the development and review of research that could involve AMDA and its Research Network members.
Alma Littles, M.D., senior associate dean for medical education and academic affairs, was chosen as one of the "25 Women You Need to Know in 2010" by the Tallahassee Democrat. Read the Democrat article about her.
Charlotte Maguire, M.D., well-known benefactor of the College of Medicine, and Ken Brummel-Smith, M.D., professor and chair of the Department of Geriatrics, are both listed in the 2010 Who's Who in the World.
Eron G. Manusov, M.D., associate professor of family medicine and rural health, was among the faculty members honored in March on FSU Authors Day. Last year, he wrote the book "The Rural Health Care Dilemma."

Barbara Shearer, MSLS, director of the Maguire Medical Library, Suzanne Nagy, MSLS, SIS, head of Web services at the Maguire Medical Library, and Carolyn Klatt, reference and electronic resources librarian at the Mercer School of Medicine in Savannah (and former head of e-resources at the Maguire Medical Library), have won the Daniel T. Richards Prize for a paper titled "Development of a new academic digital library." The article was published in the April 2009 Journal of the Medical Library Association. The paper reported on an earlier study by Shearer and Nagy describing the creation of a core electronic journal collection for a new community-based college of

medicine. The Collection Development Section of the Medical Library Association (MLA) awards the Daniel T. Richards Prize for writing related to collection development in the health sciences. A small cash award along with a certificate will be presented to the winners at the 2010 MLA meeting in Washington, D.C.
Daniel Van Durme, M.D., chair of the Department of Family Medicine and Rural Health, was chosen by the student body as the College of Medicine's nominee for the 2010 AAMC Humanism in Medicine Award.
GRANTS & AWARDS
Debra Bernat, Ph.D., assistant professor of medical humanities and social sciences, received a First Year Assistant Professor Award from Florida State University's Council on Research and Creativity for 2009-2010. The award provides $17,000 toward summer salary support. Bernat's proposal, one of 34 funded, is "Smoke-Free Policy Effects on Alcohol-Related Traffic Crashes."

Gareth Dutton, Ph.D., assistant professor of medical humanities and social sciences, recently received a five-year career development award from the National Institutes of Health that focuses on methods for improving weight-loss maintenance following treatment in applied clinical settings. According to NIH, "The overall goal of NIH-supported career development programs is to help ensure that a diverse pool of highly trained scientists are available in adequate numbers and in appropriate research areas to address the Nation's biomedical, behavioral, and clinical research needs." The specific purpose of this grant is to "support the career development of investigators who have made a commitment to focus their research endeavors on patient-oriented research." A search of the NIH databases suggests that Dutton is the first faculty member at Florida State to receive this particular NIH award.
Mary Gerend, Ph.D., assistant professor of medical humanities and social sciences, is one of Florida State's recipients of the Council on Research and Creativity's Planning Grants for 2010. Her proposal for research planning focuses on "Emotion and Health Communication."

Elena Reyes, Ph.D., associate professor and director of the Behavioral Science Curriculum, is one of six Florida State faculty members to be awarded service learning course-development grants through the university's Center for Leadership and Civic Education. "There's a growing culture of community-oriented coursework on our campus, and we've always been a university that embraces community need," Steve Mills, assistant director of the Center for Leadership and Civic Education, said in State magazine. "It's just nice to be able to lend some financial support to these efforts." Reyes' new course for fall 2010 is "Multicultural Healthcare and Health Disparities." She will partner with Out of the Box Solutions and the Tallahassee Housing Authority. According to the course description: "Students will serve as science and math tutors for grades one through 12 in the Springfield Community after-school program. They also will coordinate activities on healthy lifestyles including violence prevention, smoking prevention, physical activity and health literacy to both young and adult residents."
Kevin Sherin, M.D., director of the Orange County Health Department (and clinical professor of family medicine and rural health and member of the Orlando regional campus's Community Board of Directors), took part in a high-profile March press conference announcing the health department's $6.6 million federal grant to reduce smoking among Orlando-area residents. It reportedly was the department's largest grant ever. The U.S. surgeon general was there for the announcement.
PUBLICATIONS
John Agens, M.D., associate professor and geriatrics clerkship director for the Tallahassee regional campus, had an article published in the British Journal of Medical Practitioners. The title is "Chemical and physical restraint use in the older person."
Ewa A. Bienkiewicz, Ph.D., research assistant professor and director of the Biomedical Proteomics Laboratory, was one of the authors of "Structure of the Flexible Amino-Terminal Domain of Prion Protein Bound to a Sulfated Glycan," in the Journal of Molecular Biology, Volume 395, January. Read the article.
Maggie Blackburn, M.D., director of rural health, wrote an op-ed piece for the Tallahassee Democrat explaining how Dance Marathon benefited the children of Gadsden County. Read her essay.
Gareth Dutton was the primary author of two articles published this year. One was "Comparison of physician weight loss goals for obese male and female patients," in Preventive Medicine (50 186-188). "This was an interesting study with our family medicine and internal medicine clerkship faculty across all regional campuses," he explained. "We found that physicians had different expectations for obese male vs. female patients in terms of how much weight they would recommend each lose – they recommended more weight loss for female patients, even when the BMI of both patients was the same." Among the co-authors were Curtis Stine, M.D., associate chair of family medicine, and Nancy Van Vessem, M.D., clerkship faculty member at the Tallahassee regional campus. The other Dutton article was "Weight loss goals of patients in a health maintenance organization," published in Eating Behaviors (11, 74-78). Nancy Van Vessem was a co-author of this one, too.

Gail Galasko, Ph.D., professor of biomedical sciences, wrote two chapters in the Sixth Edition of "Pharmacology and Therapeutics for Dentistry" (Yagiela, Dowd, Johnson, Mariotti and Neidle). Her chapters are "Pituitary, Thyroid, and Parathyroid Pharmacology" and "Insulin, Oral Hypoglycemics, and Glucagon."
Marshall B. Kapp
has been interviewed for the book "Healthcare Crime: Investigating Abuse, Fraud and Homicide by Caregivers," scheduled for publication by Taylor & Francis in early 2011.
A manuscript from the lab of James Olcese, Ph.D., associate professor, "Melatonin sensitizes human myometrial cells to oxytocin in a PKCα/ERK-dependent manner," has been accepted for publication in The Journal of Clinical Endocrinology & Metabolism. Olcese calls the publication "the top endocrinology journal in the world, according to ISI ratings." One of his co-authors is Casey Cable, Class of 2012, who was able to work in Olcese's lab during the summer of 2008 thanks to the Summer Research Fellowship. The first author, Jim Sharkey, was also a student of Olcese's. He received his Ph.D. in December in the Biomedical Sciences doctoral program and is now doing a postdoctoral fellowship with Associate Professor Tim Megraw in the department.
PRESENTATIONS, CONSULTATIONS,
LECTURES & MEDIA INTERVIEWS

Ken Brummel-Smith:
· * Provided a consultation on the University of California Irvine School of Medicine Reynolds grant.
· * Presented a workshop on "Transforming Stress" at the Association of Directors of Geriatrics Academic Programs (ADGAP) annual meeting in San Diego.
· * Taught two HeartMath stress-management classes to second-year students.
· * Lectured on "Bicycle Injuries" to the College of Medicine's Wilderness Medical Society.
Gareth Dutton conducted a workshop for a multidisciplinary group of health-care providers on behalf of the Northeast Florida Area Health Education Center (AHEC) on "Motivational Interviewing and Smoking Cessation: Practical Tools for Healthcare Providers." The workshop was held in March in St. Augustine.
Mohamed Kabbaj, Ph.D., associate professor of biomedical sciences, contributed to a March 10 national ABC News report on a young actor's death. Here are excerpts: "The death of 38-year-old actor Corey Haim by an alleged prescription drug overdose has cast renewed light on the question of whether an addict can truly 'recover' – particularly in light of accounts, including Haim's, that he had cleaned up his life. 'Addiction is a chronic disease, like diabetes, and unfortunately there is absolutely no guarantee that a person will be cured,' said Mohamed Kabbaj, a neuroscientist at Florida State University. 'Even if a person goes through rehab they will be faced with craving in certain situations and they can relapse anytime – even after years of being sober…. There is no such a thing as [an] 'ex-drug addict' label. When you become addicted, you are addicted for life. You can only hope that you will stay sober for a very long time."
How did ABC News get hold of Kabbaj? College of Medicine Communications Director Doug Carlson said several faculty members have agreed to be on ABC News' experts list. "The ABC editors send queries on almost a daily basis and do a good job of communicating about the need for expertise on health-related stories," Carlson said. "They have used our experts database in the past and regularly communicate directly with me in looking for help. I recently invited all our faculty and clerkship directors to add their name to the list of experts." Read the ABC News story.
Marshall Kapp gave a presentation March 5 titled "Medical-Legal Literature 2009-2010: Top Ten Hits" at the American College of Legal Medicine Annual Conference in Orlando.
James Olcese has had two recent invited lectures:
· * "Melatonin supplementation as a neuroprotective strategy in a transgenic model of Alzheimer dementia," Gordon Research Conference on Pineal Cell Biology, Galveston, Texas, Feb. 11.
· * "Chronobiology: Entrainment and circadian clock outputs in the mammalian brain," First German-Chilean Summer School on Brain Clocks and Rhythms, Santiago, Chile, Jan. 3-13.
Dennis F. Saver, M.D., clerkship faculty in Fort Pierce, did a CD CME recording about "Patient-Centered Medical Homes," and FP Audio from the American Academy of Family Physicians published it in March. He also lectured on the same subject to the Louisiana Academy of Family Physicians in February at the group's winter meeting in Orlando.

Greg Turner, MPH, Ed.D., program director in the Center for Clinical Simulation, has assisted in two major research projects that resulted in publication/presentation this year:
1. * "Taking FOSCE on the Road: Application of Mobile Technology and Personnel for Assessing Medical Students at Geographically Distributed Clerkships," Debra Danforth, Greg Turner, Dianne Walker, Luckey Dunn, Dennis Baker and Bob Watson, which was accepted for a poster at the Southern Group on Educational Affairs in April and as a workshop at the American Society of Patient Educators meeting in June.
2. * "Fidelity of Implementation: Does It Make a Difference?," which will be presented in May at the American Educational Association meeting. He was first author. The other authors are from the University of Pittsburgh.
MEDICAL OUTREACH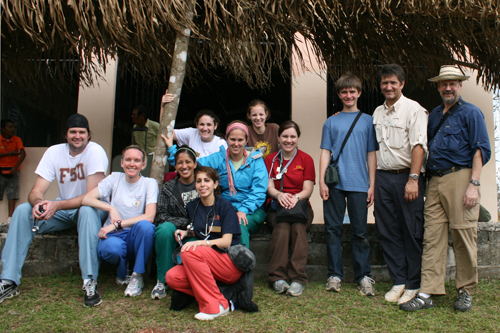 A number of College of Medicine faculty members accompanied students on the FSUCares medical outreach trips during spring break this year. Here are their names and destinations:
* Immokalee – Elena Reyes; Karen Myers, ARNP, assistant professor of family medicine and rural health.
* Mexico – Angel Braña, M.D., MPH, retired from the U.S. Public Health Service, courtesy appointment in the Department of Family Medicine and Rural Health; Eron Manusov; Diego Ramos-Rivera, M.D., clerkship faculty in Sarasota.
* Panama (pictured above) – Ken Brummel-Smith; Mark Stavros, M.D., clerkship director in emergency medicine in Pensacola.
(See Top Stories for a list of students who went on those trips.)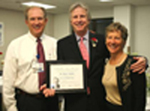 Rene Loyola, clerkship faculty in Fort Pierce, was given the Frist Humanitarian Award in April by St. Lucie Medical Center, an HCA facility in Port St. Lucie. The award, named for a founder of HCA, recognizes outstanding individuals who serve the community and those in need and whose daily dedication and caregiving are examples of the highest standards of quality and personal commitment. The Frist Award also recognizes those who demonstrate a level of commitment and caring that goes beyond everyday acts of kindness and who inspire us with their compassion, dedication and spirit. On its Web site, St. Lucie Medical states that Loyola, a surgeon, was chosen because he "has a passion for medicine and is passionate about his patients, his profession, his family and friends. He is known for his mission trips and mentoring medical students and others who are interested in pursuing a career in healthcare."
Speaking of trips … Rene Loyola said in April that he was leaving for Haiti on a surgical mission. He was going with an organization called Light of the World Charities, with whom he has been doing medical outreach for several years.
PROMOTIONS




Richard Nowakowski, the new chair in the Department of Biomedical Sciences, has announced his leadership team. The following faculty members (left to right, as pictured here) have new titles: Vice Chair Mike Overton; Associate Chair for Medical Undergraduate Studies James Olcese; Associate Chair for Research Yanchang Wang; and Associate Chair for Graduate Studies Mohamed Kabbaj.


Yoichi Kato and Choogon Lee, both of whom are Ph.D.s in the Department of Biomedical Sciences, are among the 59 faculty members at Florida State University who will become tenured as of the fall semester. Both Kato and Lee are being promoted to associate professor.