For more about faculty research and other items, see Faculty News.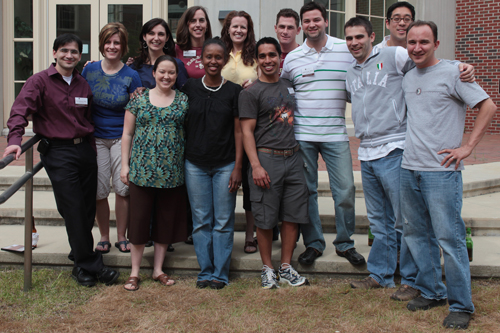 HAPPY ANNIVERSARY
More than 100 people filled the atrium April 9 to celebrate the 10th anniversary of the College of Medicine's creation and to toast the inaugural Class of 2005. President Emeritus Sandy D'Alemberte called on key people from the medical school's past – including Dean Emeritus Ocie Harris, Senior Associate Deans Myra Hurt and Alma Littles, Community Clinical Relations Director Mollie Hill and the '05 alumni – to help tell the story of how it began. The next day, dozens of people gathered in the courtyard to eat barbecue, listen to the music of Blacksheep (including College of Medicine database administrator Walter Wilczek) and enjoy the breeze. Congratulations to Alumni Affairs Coordinator Alexa Von Staden and everyone else who made the reunion/anniversary party a success.
Coming up Oct. 7 is another big anniversary activity on the main campus. Dr. Darrell Kirch, president and CEO of the Association of American Medical Colleges, will be the guest speaker for the capstone event of our anniversary celebration. Want to buy a 10th-anniversary T-shirt or tote bag? Write to Alexa.
(Pictured above, from left, front row: Karen Miles Pappas, Shayla Gray, Sach Parikh. Back row: Nari Heshmati, Laura Dacks, Christie Sain, Julie Barre, Lorna Stewart, Neil Rodgers, Joda Lynn, Javier Miller, Alex Ho and Michael Hernandez.)
MORE THAN HALF MATCH IN PRIMARY CARE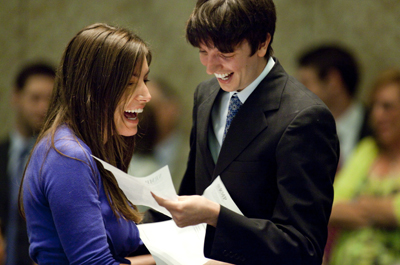 On Match Day, March 18, all 94 students in the Class of 2010 were notified where they will enter residency training or continue their education this summer after graduation. Fifty-two are entering residency in primary-care specialties: family medicine, pediatrics, internal medicine and obstetrics/gynecology. Other students matched in anesthesiology, dermatology, emergency medicine, pathology, psychiatry, radiation oncology, diagnostic radiology, general surgery, vascular surgery, orthopedic surgery and urology. Forty percent matched with residency programs in Florida, up from 30 percent in 2009. "We're proud of our school and this class," said Dean John Fogarty. "We're continuing to meet our mission."
(Pictured above: Jennifer Zingarelli and Marc Gutierrez.)
ANOTHER SPRING BREAK TO REMEMBER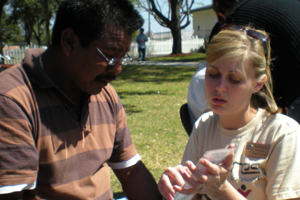 As they've done every year since the College of Medicine's inaugural class, first- and second-year students (plus others) spent their spring break on a medical outreach trip, as part of a cross-cultural course. Here are the students who went to the three destinations.
* IMMOKALEE: Erin Bascom, Laura Davis, Nicole McCoy (fourth-year student, pictured here), Mary Norton, Meg O'Meara and Kristina Seeger. (With faculty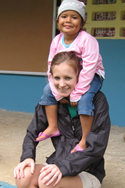 members Elena Reyes and Karen Myers)
* TEXAS-MEXICO BORDER: Brian Bauerband, Will Fields, Sarah Genet, Zachary Hale, Sarah Weaver and Claudia Zapata. (With faculty members Angel Braña, Eron Manusov and Diego Ramos-Rivera)
* PANAMA: Maegan McCarthy (pictured here with a young friend), Bethann Mohamed, Raquel Olavarrieta, Naomi Salz, Shannon Scott and Melissa Velarde. (With faculty members Ken Brummel-Smith and Mark Stavros, along with alumni Sarah and Charles Ritchie, Class of 2008) Hear the students discuss their trips and what they learned.
PATENTS ISSUED TO BLABER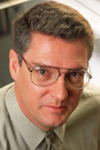 Michael Blaber , Ph.D., professor of biomedical sciences, had two United States patents issued related to his work on protein engineering and the development of novel mutant forms of fibroblast growth factor-1 for pro-angiogenic therapy. The work was a collaborative effort with Vikash Dubey (a postdoctoral fellow previously in the Blaber lab). The Florida State Office of Technology Transfer is in negotiations to license the rights to this intellectual property to a biotechnology company. The patents, titles and dates of issue are:
* U.S. Patent 7,696,171, Mutant Polypeptides of Fibroblast Growth Factor 1, Blaber, M. and Dubey, V.K. (4/10).
* U.S. Patent 7,659,379, Mutants of Human Fibroblast Growth Factor Having Increased Stability and/or Mitogenic Potency, Blaber, M. and Dubey, V.K. (2/10).
DOUBLE DOSE OF GOOD NEWS FOR WETHERBY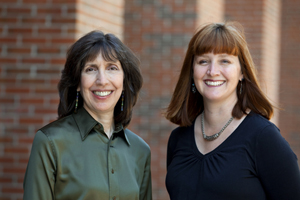 As director of the Autism Institute, Amy Wetherby, Ph.D. (on the left in this photo), already was overseeing $9 million worth of grants from the National Institutes of Health – but as of March 1 her team became even busier. They were awarded a four-year, $3 million grant from the U.S. Department of Education. The 40-school study will measure the effectiveness of the SCERTS curriculum, designed specifically for students with autism. Lindee Morgan (also pictured here), director of the institute's Center for Autism and Related Disabilities, is leading the project with Wetherby.
The other recent good news for Wetherby is that she was among the four Florida State faculty members who were named Distinguished Research Professors for 2010. Last year, Suzanne Bennett Johnson, Ph.D., former chair of Medical Humanities and Social Sciences, was the first person to receive the award while a faculty member at the College of Medicine.
THANKS TO ALMS, COLLEGE OF MEDICINE IS HONORED AGAIN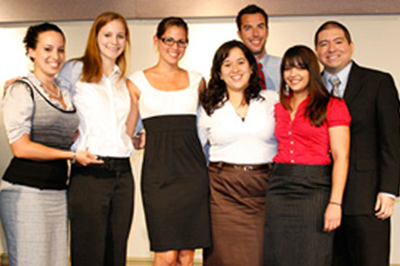 In what seems to be a tradition of the College of Medicine, our students have once more been honored at The Florida State University Leadership Awards Night. On April 6, the Association of Latino Medical Students (ALMS) was named graduate student organization of the year.
Faculty advisor Jose Rodriguez said, "This is a tribute to the current and past leadership of the organization, especially the outgoing executive board consisting of Noemí LeFranc (president), Julio Arrieta (vice president), Nicole De Jesus (secretary) and Karina Walker (treasurer). This organization has been in existence for only two years. Please join us in congratulating the Association of Latino Medical Students for their outstanding achievement."
In 2008, AMWA (the American Medical Women's Association) received this campus-wide award. In 2009, FSUCares brought home the same prize. This year, outgoing FSUCares President Maegan McCarthy got to present the award. In her remarks she said this about ALMS: "Created out of a need to reach out to Latino medical students, this organization has worked tirelessly to not only create fostering events, but to reach out to potential students and show them the benefit of attending Florida State's College of Medicine. They have co-sponsored and hosted numerous events to educate the campus on medical and health-related issues and have empowered Latino students in a field in which they have been underrepresented." More information about the awards.
By the way, Dance Marathon took home the Mores Award, which it also claimed in 2008 and 2006. The award is given for "outstanding contributions to the Seminole Tradition." Every year, Dance Marathon literally makes outstanding contributions to the College of Medicine. About half of the money the dance fundraiser generates at Florida State comes back to the medical school, which uses it for pediatric outreach.
(Pictured above, from left: Noemi LeFranc, Maegan McCarthy (presenter), Nicole De Jesus, Stephanie Morales Flores, Andrew Calzadilla, Karina Walker and Robert Castro.)
'MOST OUTSTANDING PRESENTATION'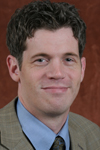 Jacob VanLandingham, Ph.D., assistant in medicine, received the 2010 Promising Medical Education Scholarship Award from the Southern Group on Educational Affairs at the group's April meeting in New Orleans. The award recognizes "the most outstanding medical education presentation by an SGEA member who has not presented before" at the annual meeting. An SGEA representative said VanLandingham's workshop, "Using a Standardized Model for Creating Sustainable and Value-Added Academic-Community Partnerships and Learning Rotations," was highly rated both for his presentation skills and for the workshop's content and design.

AN ELAM ALUM
Alma Littles, M.D., senior associate dean for medical education and academic affairs, graduated in April from the Executive Leadership in Academic Medicine (ELAM) Program for Women for 2009-10. ELAM offers an intensive one-year program of leadership training, with extensive coaching, networking and mentoring opportunities, aimed at expanding the national pool of qualified women candidates for leadership in academic medicine, dentistry and public health. Nearly 90 percent of U.S. medical schools and 50 percent of U.S. dental schools are represented among its graduates.
RESEARCH FAIR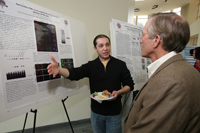 The latest Research Fair at the College of Medicine featured 68 posters – 13 more than last year's total, a 24-percent increase. They represented the work of faculty members as well as students. Areas of research included stem cells, fetal nerve cells, liver fibrosis, childhood obesity, Vitamins B12 and D, and yoga for breast cancer patients, among many others. Check a list of all the entries.
(Pictured here: postdoctoral fellow Raed Rizkallah)
STUDENTS WITH SUMMER RESEARCH GRANTS
These 20 students have research grants for this summer (faculty members' names are in parentheses). All students are from the Class of 2013 unless otherwise identified:
* Guimy Alexis (S. Johnson, Dutton), obesity.
* Daniella Barker (Ouimet), melatonin and Alzheimer's disease.
* Christina Brown (Megraw), medical genetics.
* Monica Chatwal (Gabriel), history of the pharmaceutical industry.
* Brandon Cook (VanLandingham), concussion treatment.
* Matthew Cox (Geller), cystic fibrosis.
* Michele Edison (Cornell University), platelets.
* Jillianne Grayson (VanLandingham), neurosteroids progesterone and allopregnanolone.
* Jack Laney, Class of 2011 (Bancroft, Varich), MR imaging.
* Stephen Lozier (Olcese), melatonin and pregnancy.
* Juline Machado, Class of 2011 (Schramm), febrile infants in community hospital.
* Jennifer Owen (Appelbaum), LGBT perceptions of local health care.
* David Page (Cappendijk), synelfin and cognitive impairment.
* Katie Relihan (Glueckauf), dementia caregivers and spirituality.
* Joshua Smith (Wang), chromosome segregation.
* Erica Steinvorth (Maitland), optical coherence tomography and autism.
* Cindy-Sue Turco (Wetherby, Lee), early motor behavior and autism.
* Sarah Weaver (Manusov), recruiting and retaining physicians in rural areas.
* Leah Williams (Kapp), protocols in nursing homes.
* Claudia Zapata (Gerend, Reyes), HPV vaccine acceptance in migrant workers.
EVA BIENKIEWICZ LAB STUDENTS' ACCOMPLISHMENTS
Patrice Williams:
* Based on her research and academic accomplishments, Williams was a featured student on the university's Blackboard site in March. Read her profile.
* Williams has been recommended by the National Screening Committee of the Institute of International Education (IIE) for a grant under the Fulbright U.S. Student Program for the academic year 2010-11 to Ghana/GH/AF. Her application has been forwarded to the Bureau of Educational and Cultural Affairs of the U.S. Department of State, with the final decision to be made by the presidentially appointed J. William Fulbright Foreign Scholarship Board by the end of June.
Julia Bourg:
Bourg presented a poster titled "Biophysical Investigation of Neurodegenerative Disease" and has:
* Received first place, The Joseph E. Lannutti Undergraduate Research Award at the FSU Physics Department's Annual Research Symposium Poster Session (March/April).
* Received the Poster Award at the Women in Math, Science, and Engineering (WIMSE) Society's Annual Research Symposium Poster Session (March).
* Been recognized for Extended Involvement in Research presented by the WIMSE Society (April)