See other student highlights in Top Stories.
'HE'S EVERYTHING WE LOOK FOR'

The remarkable journey of Jimmy Moss from growing up homeless to graduating from medical school was detailed in a story by Doug Blackburn in the Tallahassee Democrat, with photos by Mike Ewen. The story quoted Terry Allen, M.D., at Archbold Memorial Hospital in Thomasville, saying this about Moss: "He's going to be a star someday. I see him 10 years from now the head of a department somewhere. He's everything we look for in a med student. He's super bright. He's someone who really wants to learn and goes out of his way to do it." Read the Jimmy Moss story.
PEDALING TO HELP OTHERS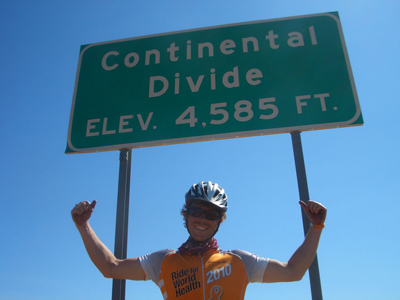 Every spring, fourth-year medical students get a chance to take a well-earned breather before graduation. They're done with class work, they know where they're heading for their residencies, and they get two months to rest up and prepare for the next phase of their lives and careers. Or, if you're Travis Grace, College of Medicine Class of 2010, you undertake a two-month, 3,700-mile bike ride.
Grace, who will be headed to Las Vegas to practice emergency medicine after graduation, is riding with approximately 25 other riders for Ride for World Health (R4WH), a group that raises money for World Bicycle Relief and HEAL Africa while promoting awareness of global and domestic health concerns each spring. Grace and his fellow riders began their journey April 1 in San Diego and are set to arrive May 25 in Bethany Beach, Del. (On April 21 he sprained his shoulder in a bike wreck and had his arm in a sling. For a while he'll have to ride in the support van rather than on his bike. Check his blog for updates.)
Raised in Fort Lauderdale, Grace earned his undergraduate degree in biochemistry from Florida State University before entering the medical school in 2006. He's spent his third and fourth years at the Daytona Beach regional campus, where he chose emergency medicine as a specialty. While he started biking for transportation after his car broke down during his first year at the College of Medicine, Grace soon developed a love of biking beyond its usefulness. Combined with his drive to help people in need, the Ride for World Health provided a perfect activity to fill his two months of freedom before he officially becomes a physician. Read Travis' blog. Read a blog that all the riders take turns updating. Find out how to donate.
IMPRESSIVE STEP 2 SHOWING FOR FOURTH-YEAR STUDENTS
Lynn Romrell, Ph.D., professor and associate dean for curriculum development and evaluation, reported that the Class of 2010 has a 100-percent pass rate for first-time takers on the USMLE Step 2 Clinical Skills and USMLE Step 2 Clinical Knowledge examinations.
NATIONAL ROLE FOR MICHELLE MILLER

At this year's American Medical Student Association national convention, Michelle Miller, Class of 2012, was elected to the Board of Regional Directors as co-director for Region 5 for the 2010-2011 year starting in June. "It will be my responsibility to act as a liaison between local chapters in Florida, Georgia, North and South Carolina to the National AMSA Board of Directors," she said. Ken Brummel-Smith, M.D. and chair of the Geriatrics Department, called her selection "a good example of a national organization recognizing 'strength, skill, and character.'"
MAKING THEIR MARK ON AMWA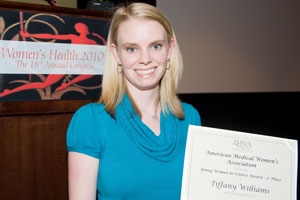 Here are highlights from the College of Medicine students' attendance in March at the national American Medical Women's Association (AMWA) Conference in Washington, D.C.:
1. * Tiffany Williams, Region 4 AMWA student coordinator (pictured here), presented a poster titled "Staphylococcus aureus prevalence in Physicians in Training" and won first place in the Women in Science Award for the poster competition. "I love how you have created your poster," Grace Lai of Florida Hospital said in congratulating her afterward.
2. * Sarah Mike, the College of Medicine student branch president, presented a poster titled "Empowering Displaced Women Through Health Education."
3. * Sarah Mike also was elected national student advocacy co-chair.
4. * Michelle Miller, College of Medicine student branch treasurer, was elected national student undergraduate liaison.
5. * Amanda Rose and Stacia Kutter were re-elected as national student recruitment co-chairs.
6. * Danielle Barnes, the national student advocacy co-chair, attended Advocacy Day on Capitol Hill with other students and physicians (including Dr. Suzanne Harrison), meeting with senators and representatives about health-care reform, including access to health care and women's health issues.
7. The College of Medicine had nine students in attendance. In addition to those mentioned above, the students were Allison Poimboeuf (College of Medicine student branch vice president), Casey Cable and Katie Rodby. "Our students have made quite an impression on the physician leadership of AMWA, and are representing the College of Medicine well," said Harrison, M.D., FAAFP, AMWA faculty advisor. "Please join us in congratulating all of them on their accomplishments and leadership."
MAKING DISCOVERIES

You didn't hear fourth-year student Kelly Hodson's name called at the Match Day ceremony in March. Like some students before her, she took an alternative to those matches. She'll be spending the next year at Bascom Palmer Eye Institute in Miami (affiliated with Jackson Memorial Hospital and the University of Miami) doing clinical research in ophthalmology under the direction of Dr. Carol Karp. "Specifically," she said, "I will be using an anterior segment Ocular Coherence Tomography machine to scan patients and then analyze results comparing corneal tumors and pterygium formation."
TRAVEL SCHOLARSHIP
The selection committee for the Minority Medical Student Travel scholarships has picked Tanya Anim, Class of 2010, to attend the American Psychiatric Association (APA) Annual Meeting in May in New Orleans. A travel award will pay for her meeting registration, airfare or train and hotel stay for up to three nights.
SEMINOLE HONOR

Tanya Anim also was selected as a 2010 Seminole Torchbearer, recognizing outstanding leadership and service to the university. Here's a sampling of the activities that made her a natural nominee:
· * She was elected chair of the 2010 National Conference of Family Medicine Residents and Medical Students by the American Academy of Family Physicians.
· * She was named National Family Medicine Interest Group coordinator, also by the AAFP.
· * She served as president of the College of Medicine Family Medicine Interest Group and as AAFP regional FMIG coordinator.
· * She received a National Health Service Corps Scholarship in exchange for serving at least two years in an area designated by the U.S. Health Resources and Services Administration as "medically underserved."
· * And she received a $10,000 AMBI® Scholarship in Science & Medicine. The national program is designed to recognize, reward and support African-American and Hispanic women who wish to pursue a career in science and medicine.
LEARNING AT LAKE ELLA MANOR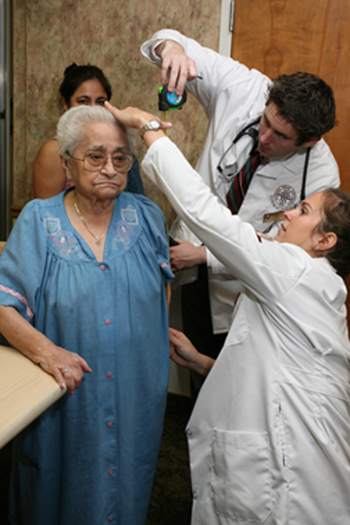 For four years, first- and second-year College of Medicine students have volunteered at two Tallahassee retirement communities, providing a place where residents can bring their health questions, learn about specific topics and speak one-on-one with a doctor-in-training. Every semester, groups of about 15 students head over to each facility four to six times. The residents get free health advice, and the students gain valuable experience interacting with patients in a relaxed, informal setting.
On one Saturday morning this winter at Lake Ella Manor, the white-coated students discussed such topics as body mass index, blood pressure and daily nutritional guidelines. They had put together information stations for each topic.
Ceola Grant, coordinator of academic support in the Department of Geriatrics, noted that one of the program's biggest benefits is the simple act of communication. "It's just giving the students the opportunity to feel more comfortable talking to older adults and not getting the jitters or feeling uncomfortable about asking them about their medical history," she said. "The students' consistency has really opened up the adults into trusting more. With the students coming in on a regular basis, it allows them to build relationships."
Some students interview residents one-on-one so that, when they begin practicing, they'll know how to better serve patients who've had a particular experience. That's good for the residents as well, Grant said, because they feel they have an impact on the next generation of physicians.
(Pictured above are students Brandon Cook and Shannon Scott.)
FOR THE COMMUNITY
It took a small army of medical students to pull off the activities associated with Cover the Uninsured Week. Erin Bascom (Class of 2013), Shaun-Pierre Hall ('13) and Meghan Gowens ('12) worked on the kickoff; Gina Obmana ('12), Sarah Weaver ('13) and Laura Davis ('13), the panel; Casey Cosgrove ('12), Leah Williams ('13) and Meghan Gowens, Journal Club; Michelle Miller ('12), Sarah Weaver and Eva Bellon ('13), documentary; Christina Brown ('13)and Jen Owen ('13), Grand Rounds; Gabby Messmer ('13) and Natalie Williams ('13), Jeopardy; Brandon Cook, Shannon Scott, Amanda Garnett and Melissa Velarde (all '13), Service Day; and Eva Bellon and Leah Williams, PR. Daniel Van Durme, M.D., chair of the Department of Family Medicine and Rural Health, was their faculty advisor. Natasha Demehri ('12) volunteered to write an op-ed piece for the Tallahassee Democrat, as she also had done last year.
The local chapter of the AMA/FMA sponsored a Maximizing Your Health event April 3 at the College of Medicine. Sarah Genet, Class of 2013, was quoted in the Tallahassee Democrat.
Andrew Cooke and Ashley Lucke, Class of 2011, are working on another Capital Park Health Fair this year. See how Andrew got involved with Capital Park through coaching.
STRIDES FOR SSTRIDE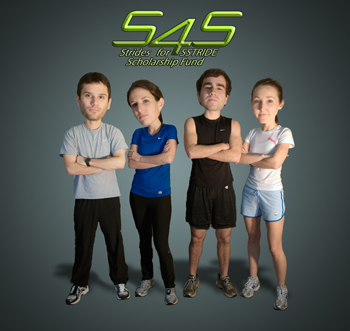 Four Class of 2012 students, members of the SSTRIDE Connection, came up with an ingenious way to combine fitness with generosity and savvy marketing, and they ended up raising $1,300 for SSTRIDE scholarships. They had people pledge a certain amount for each mile that the students ran in a March marathon. Daniel Christian and Coley Sheriff finished the marathon, and Jared Rosenfeld and Diana Mauldin ran a half marathon. They finished with a total of 78.6 miles. And they succeeded in raising the profile of SSTRIDE (Science Students Together Reaching Instructional Diversity & Excellence), the College of Medicine's primary-care pipeline program.
Jared Rich, also in the Class of 2012, was the one who gave their publicity photos that distinctive look. "I had a photo shoot with the four of them in various poses and then I used Photoshop to enlarge the heads," he explained. "I wanted it to look eye-catching and a little cartoony, so it would induce curiosity and make people remember it. I wanted people to see it and think, 'What's this all about?'" Visit the official S4S Web site.
LEADERS

These are the Class of 2013 officers for 2010-2011:
President – Austin Henkel (pictured here)
Vice president – Rich Ramonell
Secretary – Mary Norton
Treasurer – Jessie Walters-McCarthy
Social chairs – Jill Grayson & Luby Sidoff
Historians – Sheallah Palmer & Claudia Zapata
Hospitality chairs – Drew Garber & Brittany Warren
Intramural chair – Carlos Leon
Gala chair – Amy Haddock
IT/Library Committee rep – Matt Moss
Curriculum Committee rep – Souhail Karram