Listed by department. See other faculty achievements in Top Stories.
BIOMEDICAL SCIENCES
Associate Professor Michelle Arbeitman, Ph.D., had her paper "Somatic sex-specific transcriptome differences in Drosophila revealed by whole transcriptome sequencing" published by BMC Genomics. The website also proclaimed it a "most viewed paper."



Professor Pradeep Bhide (pictured here), Ph.D., and Research Associate Deirdre McCarthy had a paper published in the Sept. 21 issue of The Journal of Neuroscience. Using a mouse model, the paper – "Cocaine Alters BDNF Expression and Neuronal Migration in the Embryotic Mouse Forebrain" – reported new findings on how cocaine abuse during pregnancy can alter development of the brain of the unborn fetus.

Professor Michael Blaber, Ph.D., and Professional Research Assistant Sachiko Blaber had a paper published by Bioorganic & Medicinal Chemistry Letters. The title was "Biological evaluation and docking studies of natural isocoumarins as inhibitors for human kallikrein 5 and 7." Also, Michael Blaber's paper "Substrate specificity of kallikrein-related peptidase 13 activated by salts of glycosaminoglycans and a search for natural substrate candidates" was published by Biochimie. Sachiko Blaber also contributed.

The lab of Professor Myra Hurt, Ph.D., studies the regulation of gene expression patterns controlling human cellular growth and proliferation. In particular, it works toward elucidation of cellular pathways altered in proliferative diseases, such as cancer. Mitosis is the culminating step of the cycle where, after growth, one cell divides into two. Many gene expression regulators are inactivated during mitosis. The lab recently uncovered a mechanism for the simultaneous and coordinated regulation of hundreds of gene expression regulators, called C2H2 zinc finger proteins, during mitosis. A mechanism of such global nature has never been demonstrated before. This novel finding was published in the Oct. 1 issue of Cell Cycle journal. The article, "Global mitotic phosphorylation of C2H2 zinc finger protein linker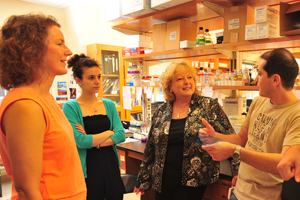 peptides," was co-written by Hurt (who is second from right in this photo), research coordinator Beth Alexander (far left) and postdoctoral fellow Raed Rizkallah (far right).
As commentaries on the findings reported in the aforementioned paper, Cell Cycle has invited two "News&Views" articles to be published: "Phosphorylation during mitosis: How many kinases are out there?" (November) and "Coordinate inactivation of zinc finger transcription factors at mitosis" (December). Ongoing research in their laboratory aims at exploring the differential regulation of this new mechanism in tumor cells.
In addition, a critical tool that has enabled this study was the generation of a new antibody that can specifically identify mitotic – and thus proliferating – cells. This antibody offers great potential as a proliferation biomarker to be used by cell cycle and cancer researchers around the world. To protect this new invention, a patent application was recently filed by the Office of Intellectual Property at FSU. The Hurt lab is in the process of licensing the production of the new antibody to Millipore Co. to make it commercially available to the research community.

Associate Professor James Olcese, Ph.D., had "Circadian aspects of mammalian parturition" accepted for publication in Molecular and Cellular Endocrinology. In August, he also presented a poster, "Neuroprotective actions of melatonin in the Alzheimer brain," at the XII European Biological Rhythms Society conference in Oxford.

The lab of Associate Professor Branko Stefanovic, Ph.D., had a paper published in Current Medicinal Chemistry. The paper, "Progress Towards Discovery of Antifibrotic Drugs Targeting Synthesis of Type I Collagen," was written by Branko Stefanovic, Lela Stefanovic and Biomedical Sciences alumni Dillon Fritz and Le Cai.


CLINICAL SCIENCES
Professor Gerry Maitland, M.D., was featured speaker at these events:
O "Multiple sclerosis: New treatments." FSU/TMH Research Center. Dothan, Ala., June.
O "Living with multiple sclerosis," Pfizer, Tallahassee, June.
O "Errors of commission and omission in the evaluation of the falling patient," national webcast sponsored by Senior Falls coalition of Florida, September.
O "Pedaling for advances in clinical research in Parkinsonism," College of Medicine. Tallahassee, September.
He also made a presentation at The Movement Disorders Society 15th International Congress of Parkinson 's Disease and Movement Disorders in Toronto during June. The presentation was "Low contrast visual acuity is decreased in patients with parkinsonism," with research by Maitland, Class of 2012 students Coley Sheriff and Sarah Novara and Class of 2014 student Jessica Specht.

Assistant Professor L. Kristin Parsley, M.D., had two papers published recently:
O "Identical Twin Sisters with Rubinstein Taybi Syndrome associated with Chiari Malformations and Syrinx," American Journal of Medical Genetics, July.
O "The Patient with Infantile Seizures," Current Opinion in Pediatrics, October. The article focuses on a systematic and tiered approach to infants presenting with recurrent seizures.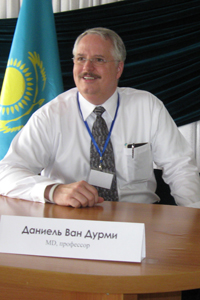 FAMILY MEDICINE & RURAL HEALTH
Department Chair Daniel Van Durme, M.D. (pictured here), director of the College of Medicine's Center on Global Health, worked with faculty from UCLA, USF and VCU in teaching a weeklong course on research methods, grants and medical writing for faculty from several medical institutes and medical schools in Karaganda, Kazakhstan.
Director of Rural Health Maggie Blackburn, M.D., and Professor Gail Bellamy, Ph.D., received a Community Health Center Planning Grant awarded by the Health Resources Services Administration Bureau of Primary Health Care. The total award is $80,000. The grant will be used to underwrite assessment and planning activities for the Havana Wellness Center to apply to become a federally qualified health center.

This photo of Bellamy, on vacation in Tanzania, illustrated an article in the Summer 2011 issue of Rural Roads, the magazine of the National Rural Health Association.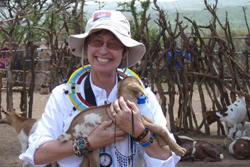 The article, "Rural Healthy People project creates objectives for healthy communities," discussed the work being done by Bellamy and a colleague at Texas A&M to adapt the federal Healthy People 2020 standards to meet rural priorities. Bellamy is director of the Center for Rural Health Research and Policy at the College of Medicine.

Bellamy was re-elected chair of the Editorial Board of the Journal of Rural Health. Also, at the close of this year's annual meeting of the American Public Health Association, she will become chair of the Intersectional Council (ISC), representing the 26+ membership sections and Special Interest Groups (SPIGs) that make up the association. As chair of the ISC, she will also be an ex-officio member of the board of directors. Also, Bellamy was an invited speaker at the 6th Annual Educational Forum on Diabetes Prevention and Management: Reaching Diverse and Underserved Populations. Her presentation was "The Importance of Health Literacy in Prevention and Self-Management of Diabetes."

Associate Professor Kendall Campbell, M.D., was one of the participants in Tallahassee's Take a Loved One to the Doctor Day. The Sept. 30 event at Neighborhood Health Services – coordinated locally by the Leon County Health Department, the state Office of Minority
Health and Walgreens Pharmacy – included a press conference, free health screenings and access to health information and resources. It was designed to improve the health of racial and ethnic minority populations.

Assistant Professor Meredith Goodwin, M.D., was promoted to colonel in the U.S. Air Force Reserve in September. Col. (Dr.) Goodwin is the chief of aerospace medicine for the 919th Special Operations Wing Medical Squadron. She got her eagles pinned on Sept. 11 at Duke Field, Fla.


GERIATRICS
Department Chair Ken Brummel-Smith, M.D., Senior Associate Dean Alma Littles, M.D., and third-year student Andy Hogan were featured in "Patient Science" in the September issue of The New Physician, published by the American Medical Student Association. It also included photos of Associate Family Medicine Chair Curtis Stine and College of Medicine students with older patients. Here are excerpts:
O "Dr. Ken Brummel-Smith … says the early exposure to relatively healthy older patients helped students develop positive attitudes toward this growing age group and meant they were better equipped to deal with more complicated cases by their fourth year."
O "Dr. Alma Littles … says students need to learn enough about their patients to be able to communicate clearly about their course of treatment.... 'If you're not able to communicate with a patient at a level and in a language they can understand, it doesn't matter how great the care you're trying to deliver to them is, it may not actually get there,' says Littles. 'The greatest advice will just be a flop because it's not making sense to a patient.'
O "Andrew Hogan ... sees the importance of both an expansive knowledge of medicine and the ability to communicate. 'You can have a great doctor who is not a people person whose patients are not going to want to listen,' says Hogan. 'You have to make [patients] feel like you are there for them, and they're not just writing a check and getting a diagnosis.'"

Brummel-Smith also was recommended by the Council of Medical School Deans to represent Florida's medical schools on the Technical Advisory Workgroup for the Long Term Care Managed Care implementation. He was appointed by the secretary of the Agency for Health Care Administration (AHCA) to serve.

Brummel-Smith was selected by peers – for the 13th time – as one of the "Best Doctors in America."

Professor Alice Pomidor, M.D., MPH, gave a brief presentation about falls Sept. 23 as part of this year's edition of "Senior Falls Prevention for Health Care Professionals," a live WFSU-TV program.


MEDICAL HUMANITIES & SOCIAL SCIENCES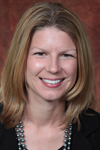 Assistant Professor Kim Driscoll, Ph.D., was author or co-author of the following articles either published or in process:
O "Supporting CF disease management during adolescence: The role of family and friends," Child: Care, Health and Development.
O "Does Blood Glucose Monitoring Increase Prior to Clinic Visits in Children with Type 1 Diabetes?" Diabetes Care.
O "Use of a Precious Resource: Parental Decision Making and Experiences Associated with a Trial to Interdict Type 1 Diabetes Using Autologous Umbilical Cord Blood," Contemporary Clinical Trials.
O "Screening for symptoms of depression and anxiety in adolescents and young adults with cystic fibrosis," Pediatric Pulmonology.

At the 71st Scientific Sessions of the American Diabetes Association in San Diego, Driscoll also presented a poster based on this abstract: "White coat adherence in children and adolescents with type 1 diabetes," Diabetes.

Associate Professor Heather Flynn, Ph.D., has received several grants recently: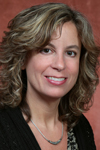 O "Targeted Research on Mental Health Disparities," an R01 grant from the National Institute of Mental Health; she is principal investigator. The aim is to examine disparities in depression and treatment use from pregnancy through postpartum across national sites, including the University of Iowa, Emory University, University of Cincinnati, University of Washington, and Brown University.
O "Predictors of Response to Perinatal Depression Treatment: Establishing Processes and Infrastructure for Multisite Effectiveness Research," an R03 award from the Agency for Healthcare Research and Quality. She intends to establish the feasibility of transforming clinical databases into clinical research registries for higher-impact clinical research on perinatal depression.
O "A National Survey of Practice Patterns in Managing Perinatal Depression," an internal Georgia Health Sciences University (GHSU) grant, in collaboration with Dr. Christie Palladino at GHSU. The project proposes to describe obstetrician-gynecologists' practice patterns in managing depression during pregnancy and the postpartum period.
O "Preventing Prenatal Depression in Vulnerable Women," a Community Engagement Grant from the University of Michigan Center for Translational Science, to strengthen research collaboration with Healthy Start Healthy Families in Oakland County, Mich.

Flynn also was recently appointed international chair of the Professional Development Committee within the Motivational Interviewing Network of Trainers. The committee will develop guidelines and standards for training in motivational interviewing, an evidence-based approach to health behavior change used around the globe.


AUTISM INSTITUTE

Associate in Medicine Lindee Morgan received a two-year grant of approximately $114,000 from Autism Speaks. This is an excerpt from her lay abstract: "The Interview Skills Curriculum (ISC) is an intervention protocol that teaches adults with ASD [autism spectrum disorder] a variety of social skills that are generally used within the context of a job interview. The objectives of this project are 1) to refine and test measures for the ISC manual; 2) to complete an intervention study to evaluate the feasibility of an ISC program; and 3) to develop a full Manual of Procedures (MOP) to prepare for a subsequent larger study to be conducted at multiple sites." Morgan's was one of 10 new research grants totaling almost $1.8 million in funding over the next three years.


CENTER FOR INNOVATIVE COLLABORATION IN MEDICINE & LAW
Director Marshall Kapp, J.D., MPH, had two articles published recently:
O "Conscripted Physician Services and the Public's Health," Journal of Law, Medicine & Ethics (included in Symposium issue on "Public Health Reform: Patient Protection and Affordable Care Act Implications for the Public's Health").
O "What Do Medical Students Think About the Law? Report of a Focus Group," co-authored by Dennis Baker and Greg Turner in the Office of Faculty Development, Legal Medicine Perspectives, a publication of the American College of Legal Medicine.

Kapp also participated in a panel, "Beyond Advance Directives: Implementing the POLST (Physician Orders for Life-Sustaining Treatment) Paradigm in Florida," at the Florida Conference on Aging sponsored by the Florida Council on Aging, in St. Pete Beach. Geriatrics Chair Ken Brummel-Smith also participated. In addition, Kapp presented "A Legal Approach to the Use of Human Biological Materials for Research Purposes" at an Omaha conference sponsored by the Creighton University Center for Health Policy and Ethics.

DIVISION OF HEALTH AFFAIRS
Associate Dean for Health Affairs Les Beitsch, M.D., J.D., was author or co-author of several recent papers published or accepted:
O "Quality Improvement and Accreditation Readiness in State Public Health Agencies," Journal of Public Health Management Practice.
O "Public Health Department Accreditation: Setting the Research Agenda," American Journal of Preventive Medicine.
O "Why Don Berwick Is Almost Right: How Public Health Quality Improvement Operates Within Complex Systems," Journal of Public Health Management Practice.
O "Legal Frameworks Supporting Public Health Department Accreditation: Lessons Learned from Ten States," Journal of Public Health Management Practice.
O "Responsibilities of State Public Health Agencies," American Journal of Public Health.
Beitsch also is completing service on an Institute of Medicine committee that lasted for two years and issued three reports, including "For the Public's Health: Revitalizing Law and Policy to Meet New Challenges," Committee on Public Health Strategies to Improve Health.

FORT PIERCE REGIONAL CAMPUS
Clerkship faculty member Stephen Badolato, M.D., was named to receive the 2011 Harold S. Strasser, MD Florida Medical Association Good Samaritan Award. An article in the October issue of Spacecoast Medicine magazine began: "Physician, missionary and philanthropist, Dr. Stephen Badolato is a true 'Renaissance doc' whose leadership, generosity and compassion has made a difference in lives around the world." The article spoke of his work in Haiti before and after the earthquake, as well as in Nicaragua. It quoted Barbara Walker, director of Ruuska Village Hospital in Haiti: "Anytime that I have asked him for help for me or the people of Haiti, he is always ready and willing to do whatever is needed, always free of charge and always with the utmost skill and respect."

Clerkship faculty member Frank Conidi, D.O., was appointed a consultant to the FDA's Neurological Devices Panel and Medical Advisory Committee, and to the Center for Devices and Radiological Health; participated as an expert moderator for the FDA's Sports Concussion Neurodiagnostic Device workshop in Washington, D.C.; presented "The Management of Headache in Concussed Athletes," a poster and lecture, at the International Headache Society Meeting in Berlin; and presented a lecture at the American Academy of Neurology's annual meeting in Hawaii, titled "Sports-Related Concussion: State of the Art Application of the Current Fund of Knowledge to Clinical Questions in the Management of the Athlete."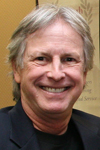 Clerkship faculty member Rene Loyola, M.D. (pictured here), went on a weeklong surgical mission to Nicaragua with Light of the World Charities and will be going back in January. Also, he went to Washington, D.C., with Honor Flights as medical personnel, ferrying World War II vets to see the monuments.

Clerkship faculty member John Peden, M.D., was recently recognized by the American Orthopaedic Society for Sports Medicine as an active member, which requires the physician to demonstrate a significant contribution and commitment to sports medicine as it relates to his practice, including research and publication, service as a team physician, and education of those providing health care to athletes. Peden also is a member of the Arthroscopy Association of North America, and this year he was elected to the Communications Committee, then appointed to the Communities of Practice Committee, which is responsible for the continuing development of an online forum for association members to share and discuss techniques, procedures, knowledge and experience.

Peden has participated for several years as an Associate Master Instructor teaching arthroscopic cadaveric laboratory courses at the Orthopaedic Learning Center in Chicago, but this will be his first year acting as a Support Faculty Member for Arthroscopy Association of North America's annual Fall Course, held this year Nov. 17-19 in Palm Desert, Calif.


ORLANDO REGIONAL CAMPUS
Clerkship faculty member Sarfraz Ahmad, Ph.D., has had numerous peer-reviewed publications and presentations, including:
O "Therapeutic roles of heparin anticoagulants in cancer and related disorders," Medicinal Chemistry.
O "Impact of environmental factors on thromboembolic disorders," co-author of chapter in Environmental Pollution: Ecology and Human Health, Narosa Publishing House, New Delhi.
O "Functional consequences of cellular interactions with heparin-PF4 antibodies in heparin-induced thrombocytopenia," oral presentation at the 44th Middle East Medical Assembly (MEMA) Conference, organized by The American University of Beirut in Joint Sponsorship with Cleveland Clinic.
O "Chemistry and pharmacology of heparin anticoagulants and its therapeutic applications and limitations: An update," peer-reviewed abstract, Proceedings of the International Conference on Chemistry: Frontiers and Challenges, in press.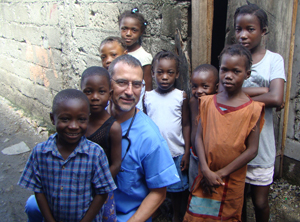 Clerkship faculty member Thomas A. Lacy, M.D., has been working with Helping Babies Breathe, a program developed by the American Academy of Pediatrics (AAP) to teach newborn resuscitation to local birth attendants in resource-limited countries. After becoming a mentor trainer for the AAP, in June he did a pilot Helping Babies Breathe program in Northern Haiti, training Haitian physicians and health educators who then took the program back to their villages and trained local birth attendants.

Clerkship faculty member Jennifer Keehbauch, M.D., will be recognized Nov. 10 at the Central Florida Humanitarian Awards Gala. An article about her in Central Florida Medicine magazine stated: "Not only does she serve as Director of the Women's Health Fellowship and Associate Director of the Florida Hospital Family Medicine Residency Program, she's the founder and medical director of the Community After Hours Clinic for the Uninsured." The article quoted Ken Bradley, campus CEO of Winter Park Memorial Hospital and mayor of Winter Park, saying: "Jenni has a tremendous ability to see what will be instead of what is. And, in regards to the After Hours Clinic, she's also the single force in getting a Kresge grant, which is very important to the success of the program.... She's very consistent, is a great leader, a tremendous mentor and great educator."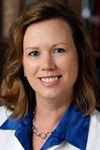 Keehbauch also was the main author of a peer-reviewed publication: "Improving recognition of overweight children utilizing electronic medical record generated BMI percentile for age and sex," Clinical Pediatrics. In addition, she had the following peer-reviewed presentations:
O "Screening and Treating for Cervical Cancer During Missions to Chiapas, Mexico," Family Medicine Global Health Workshop, San Diego.
O "The Impact of 2001 and 2006 ASCCP Guideline Changes on Family Medicine Residency Colposcopy Training," American Medical Women's Association, Washington, D.C.
O "Diabetes, Board Certification Self-Assessment Modules for American Board of Family Medicine," FAFP, Orlando.
O "The Vitamin D Controversy," FAFP conference, Orlando.

Clerkship faculty member Jessica Feranec, M.D., recently made or soon will make these presentations:
O "Abdominal wall trigger points and nerve block," video presentation at the International Pelvic Pain Society Annual Meeting, Las Vegas, October.
O "Prevalence of chronic pelvic pain diagnosis among obese women compared to non-obese," poster presentation at the International Pelvic Pain Society Annual Meeting, Chicago, October.
O "Outcomes in robotic versus laparoscopic benign total hysterectomy in obese patients," abstract to be presented at the American Association of Gynecologic Laparoscopy Annual Meeting, Hollywood, Fla., November.
O "Management of complications following pelvic reconstructive surgery with transvaginal mesh," abstract accepted at the South Atlantic Association of Obstetrics and Gynecology Annual Meeting, Naples, Fla., January 2012.
O "Preventative Analgesia: Tips for the gynecologic surgeon to optimize pain control," abstract submitted to the ACOG Annual Clinical Meeting, San Diego, May 2012.

Pediatrics Clerkship Director Joan Meek, M.D., was editor-in-chief of the American Academy of Pediatrics' "New Mother's Guide to Breastfeeding: Completely Revised and Updated Second Edition." On the morning after the press release announced the book's publication, Meek was the guest expert on breastfeeding for "Doctor Radio" on Sirius XM.


PENSACOLA REGIONAL CAMPUS
Family Medicine Clerkship Director Dennis Mayeaux, M.D., was quoted in a press release on the injunction ruling against the physician gag law, which limited the ways in which physicians could ask patients about gun ownership. The release was distributed by Florida chapters of three national medical organizations, including the Florida Academy of Family Physicians, in which Mayeaux chairs the board of directors. In the release, he stated: "The impact of this law has already caused serious rifts in physician-patient relationships. Casual conversations with patients often bring other medical issues to light, and erosion of these opportunities also erodes the quality of care. The preliminary injunction will now allow us to talk to our patients again about firearm safety."


TALLAHASSEE REGIONAL CAMPUS
Clerkship faculty member Larry Deeb, M.D., received the Mission Model Award for the Tallahassee campus. Campus Dean Mel Hartsfield, M.D., said Deeb "has demonstrated leadership roles in local, national and international organizations dedicated to the health of
children, with special focus on care for children with diabetes. He is actively involved with his local civic club and leveraged that association to sponsor projects for children with diabetes in Bolivia, Sri Lanka, Nigeria and Cameroon. He also has received what many of us consider the highest honor of all, recognition from his peers as the recipient of the Capital Medical Society Outstanding Physician Award." A sampling of comments from students: "He is extremely knowledgeable and loves to teach." "I learned to treat each patient as an individual rather than a disease." "He is someone that I would like to model my career and family life after." "He treats you not as a student but as a colleague." "He loves his job and shows it every minute you are around him." "He is a wonderful role model as a physician and one of our greatest assets at FSU. Don't ever let him go!"

Also honored was clerkship faculty member Satish Mital, M.D., who received the Outstanding Community Educator Award. Dean Hartsfield said of him: "His scholarship has been recognized with his selection as the Stanley Russin Award for Academic Excellence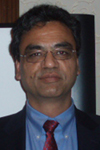 recipient while completing his residency at Hahnemann University Hospital in Philadelphia. His commitment to teaching, his knowledge and his willingness to encourage and mentor our students is widely recognized by both our students and his peers." Students had this to say: "He has enthusiasm for teaching, a willingness to spend the extra time in discussion with us and treats all students with respect while providing the freedom we need to gain confidence to become more independent. He ALWAYS took the time to explain things to me no matter how short on time we were. He gave the most evidenced-based explanations of any physician I have yet to work with and readily supplied me with journal articles so I could read about the studies myself." Another said: "He allowed me to feel comfortable making clinical decisions – he never made me feel scared to voice my decision or opinion."

FACULTY DEVELOPMENT
Associate Dean for Faculty Development Dennis Baker, Ph.D., was co-author of "Teacher-student relationships in medical education: Boundary considerations," in Medical Teacher.