Read about more faculty achievements in Faculty News.
THUMBS UP FROM THE ACCREDITATION AGENCY
The biggest news of this quarter can be summed up in one word: "reaccreditation."

In October, the College of Medicine learned it had been granted an eight-year accreditation – the maximum period possible – by the Liaison Committee on Medical Education. The medical school, created in 2000, first gained full accreditation in 2005.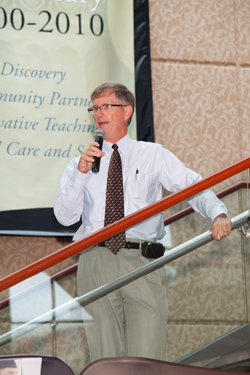 Preparing for this milestone took nearly two years of thoughtful self-examination and generated a mountain of paperwork for the LCME to examine. In its letter of accreditation, the LCME praised the College of Medicine's unswerving dedication to its mission; its pipeline for recruiting a diversity of medical students; its community faculty apprenticeship model; its strong faculty development program; and its high faculty retention rate.

"Our graduation and match statistics, our strong board scores and student performance with our community model, and the impacts we are having across the state have validated that this model is working and working very well," said Dean John P. Fogarty (pictured here at a reaccreditation celebration in the atrium). "We appreciated having an opportunity to share examples of that success with our LCME site visitors."

Only LCME-accredited institutions may receive federal grants for medical education and participate in federal loan programs. And U.S. M.D. students must have graduated from an LCME-accredited program before they can take the U.S. Medical Licensing Exam or enter approved residency programs.

Read more about what the LCME said in its report.


ACCREDITATION CONGRATULATIONS, PART 2
Two days after the LCME celebration came a message from the ACGME (Accreditation Council for Graduate Medical Education), which accredits residency programs and their institutional sponsors. It has granted continued accreditation to the College of Medicine.

That vote of confidence means the medical school can continue to be a sponsoring institution for residency programs, the next step for medical students after their M.D. degree. The College of Medicine has two such programs at Sacred Heart Hospital in Pensacola: one in pediatrics and one in obstetrics-gynecology. It also is launching an internal medicine residency program with Tallahassee Memorial Hospital and a family medicine one with Lee Memorial Hospital in Fort Myers. (See next story.)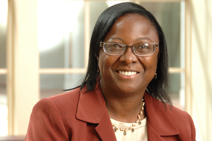 "As the first new medical school of the 21st century, it's very meaningful to have outside validation of the successful outcomes our program is producing," said Alma Littles (pictured here), senior associate dean for medical education and academic affairs.

"We are working hard to prepare our students to be successful in their graduate medical education following the completion of medical school. We've seen this hard work paying off in the feedback we get from residency program directors about the quality of our graduates, including the high percentage of our graduates who are awarded chief resident status. With this seal of approval from the ACGME, we have a clear statement that we also will be there to help provide excellent training opportunities beyond medical school."


SPEAKING OF RESIDENCY … A BRAND-NEW PROGRAM
At a time when Florida desperately needs more residency programs to accommodate its growing number of medical school graduates, the recent news from Southwest Florida was especially encouraging: a new family medicine residency program in Fort Myers.

The program will be based at Lee Memorial Hospital with the College of Medicine as its institutional sponsor. It could begin taking applications from prospective residents as early as 2012 and admit its first class in July 2013.

"Even though the number of our graduates to complete residency training at this point is relatively small, there is evidence that when they train in Florida it keeps them in Florida, especially in the communities where their training takes place," said Alma Littles, M.D., senior associate dean for medical education and academic affairs. In fact, 90 percent of FSU College of Medicine graduates who completed residency in Florida are now practicing in Florida.
Read more about this new residency program.

HURT HONORED FOR RESEARCH LEADERSHIP
Senior Associate Dean Myra Hurt has received the Jim King Leadership Award for her numerous contributions to education, science and research in Florida.

The annual award, presented by Florida's Center for Universal Research to Eradicate Disease (FL CURED), recognizes outstanding efforts to expand and enhance Florida's biomedical research enterprise and expedite cures. Hurt is the 2011 co-recipient, along with William Dalton, president and CEO of Moffitt Cancer Center.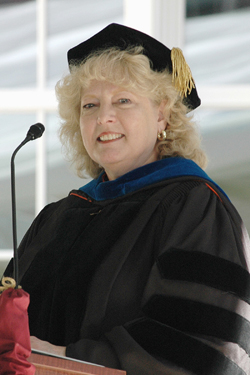 The award is named after the late Florida Sen. Jim King, who sponsored legislation leading to creation of the Florida Biomedical Research Program.

Hurt, Ph.D., professor of biomedical sciences and senior associate dean for research and graduate programs, is widely regarded as the founding mother of the College of Medicine. Along the way, she also helped the U.S. realize it was facing a shortage of both physicians and medical schools. Since 2006 she has served on the advisory council that rates and recommends biomedical research projects for funding in Florida.

"I think it's really gratifying to win this award that bears Jim King's name because his legacy is, among other things, the biomedical research program his legislation created," Hurt said. "We've certainly seen a challenging and difficult funding environment in Florida, where biomedical research plays a vital role in the health of our citizens and in driving our economy."

College of Medicine Dean John P. Fogarty said: "Dr. Hurt's vision, leadership and lifetime commitment to medical education and research in Florida are exemplary."
Read a longer version of this story.


PATIENT-SAFETY GRANT NEARLY $1 MILLION
Assistant Professor Dennis Tsilimingras is studying patient safety with a two-year, $908,000 grant from the federal Agency for Healthcare Research and Quality. With the participation of the Tallahassee Memorial Hospitalist Group, the study will monitor approximately 600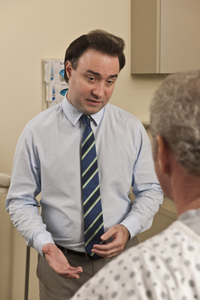 hospital patients for three weeks after they're discharged and document any medical problems they encounter.

Tsilimingras (pronounced "chili-MING-gras"), director of the medical school's Center on Patient Safety, and his fellow researchers will be looking for medical errors that injure patients. In the language of patient safety, those are called "post-discharge adverse events."

He said the only previous U.S. study done, in Boston, found that 19 percent of discharged patients experienced an adverse event. When that study was replicated in Ottawa, the rate was 23 percent. He said those were five to six times higher than in-hospital rates. Neither study looked at rural patients, whereas half of the patients in Tsilimingras' study will be rural.

Read more about this grant and patient safety.


LIFELONG LEARNERS GET GLIMPSE OF MEDICINE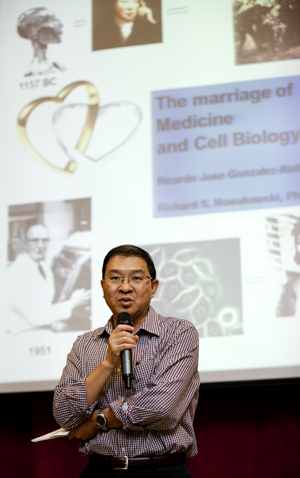 What if we got our teachers out of the classroom, our researchers out of the lab, and shared them with the community? What if they used everyday language to provide valuable insights from different perspectives?

It's a great idea, and it's playing out right now in a six-week series called "In Sickness and in Health: The Marriage of Cell Biology and Medicine." The plan was hatched by Associate Professor Yanchang Wang (pictured here), Grants Liaison Kerry Maddox and Department Chairs Richard Nowakowski (Biomedical Sciences) and Ricardo Gonzalez-Rothi (Clinical Sciences).

The series is part of Florida State's Osher Lifelong Learning Institute and is taking place in the Maguire Center at Westminster Oaks retirement complex. Each session is team-taught by one clinician and one researcher. In addition to Gonzalez-Rothi, Nowakowski and Wang, the College of Medicine faculty members taking part are Professor Pradeep Bhide, M.D., Associate Professor John Blackmon, M.D., Dean John Fogarty, M.D., Associate Professor James Olcese, Ph.D., Professor Charlie Ouimet, Ph.D., Professor Mike Overton, Ph.D., Professor Ed Valenstein, M.D., and Associate Professor (and clinical psychologist) Elena Reyes, Ph.D. (The other OLLI lecturer, neurologist George Slade, is not on the medical school faculty.)

The lectures will be posted on the College of Medicine website.


THE DIVERSE ROAD TO EXCELLENCE
The days of seeing diversity as a problem to be solved are behind us, Marc Nivet, chief diversity officer of the Association of American Medical Colleges, told a College of Medicine audience Oct. 12. Nor is diversity the goal in itself. Instead, it's a force to be harnessed in the quest for excellence.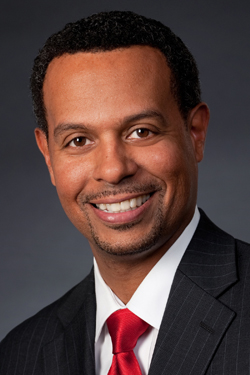 "If we changed every face in medicine tomorrow and all of a sudden every medical student across the country had a brown face, but we had the same health outcomes we have today across this country, who really cares?" Nivet (pronounced ni-VAY) told the auditorium crowd. The real goal, he said, is excellence in providing better health care for everyone.

"Diversity is a driver of excellence," he said. "In fact, it accelerates the pace to excellence."

Nivet (pictured here) defined "diversity" as simply our differences, and he defined "inclusion" as a culture in which we all thrive, no matter what our differences are. His visit coincided with the recent formation of the College of Medicine's Diversity and Inclusion Council, co-chaired by Associate Professor Jon Appelbaum, M.D., and Assistant Dean Helen Livingston, Ed.D.

"Dr. Nivet's presentation and subsequent discussions and meetings prompted a lot of discussion about our concerns and the diversity and inclusion issues we should address," Livingston said. "He provided a thoughtful analysis in his advocacy to bring diversity and inclusion into the mainstream discussion and beyond just a campaign to increase numbers."

Appelbaum noted that Nivet was particularly impressed with the breadth and depth of the college's pipeline programs.

"I learned a tremendous amount and am so appreciative of the fact that such good work is occurring," Nivet wrote after his visit. "It is clear FSU Med is a special place."
TRANSLATIONAL LAB OPEN HOUSE
As many as 150 visitors, many from the other science centers at Florida State, came to tour the Translational Science Laboratory on Aug. 25. "Our hope is that the lab will help build interdisciplinary research in the college, across the university and elsewhere," said Myra Hurt, Ph.D., senior associate dean for research and graduate programs. "There are exciting research opportunities ahead for all of us."

Find out exactly which cutting-edge devices are in the lab.


COLLEGE CO-HOSTS DIABETES CONFERENCE
Florida's surgeon general and experts from the College of Medicine and elsewhere participated in an all-day diabetes conference Sept. 23 at FSU's Turnbull Center. "Diabetes Prevention and Management: Reaching Diverse and Underserved Populations" was sponsored by the state Health Department's Diabetes Prevention and Control Program and co-hosted by the College of Medicine and Tallahassee Memorial Hospital's Diabetes Center.

Among the presenters from the medical school were Professor Gail Bellamy, Ph.D., director of the Center for Rural Health Research and Policy, on health literacy; Professor Ken Brummel-Smith, M.D., chair of the Department of Geriatrics, on older patients; and Associate Professor José E. Rodríguez, M.D., on cultural considerations. The conference was designed for physicians, nurses, nurse practitioners and other health-care providers.


ARTS AND HEALTH IN IMMOKALEE
The College of Medicine's Health Education Site in Immokalee has been selected for the Arts in Healthcare for Rural Communities initiative. It will manage the approximately $12,000 that will be awarded for Immokalee community agencies to help address health disparities through engagement in the arts.

The University of Florida Center for Arts and Healthcare visited in September to initiate conversations about including Immokalee in the project, funded by the Kresge Foundation. Clinical Assistant Professor Javier Rosado, Ph.D., said programs in other communities have included weekly community-based programs such as drawing, ceramics, improvisational theater and Zumba, as well as artists working with individual patients and caregivers in settings such as hospitals, clinics and senior centers.