Read about more faculty achievements in Faculty News.
ANOTHER BIG MATCH DAY FOR PRIMARY CARE
Match Day 2011 was an entertaining blend of Ruby Diamond majesty, St. Patrick's Day kitsch and medical student emotion. Once again more College of Medicine students matched in primary care than in all other specialties combined.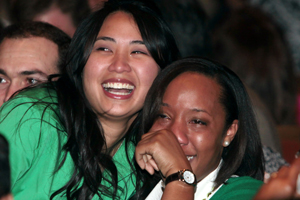 Match Day, of course, is the day when students at medical schools nationwide find out which residency program has accepted them and, consequently, where they will spend the next three to seven years of their medical training.

In all, 61 students matched in primary care (including family medicine, internal medicine, pediatrics and obstetrics-gynecology). Eighteen students matched in general surgery, followed by 10 in emergency medicine.

Because Florida has nowhere near enough residency programs to accommodate all of the medical students it produces, about two-thirds of the 2011 graduates are leaving the state to continue their medical education.

With 114 students, the Class of 2011 had outgrown the College of Medicine auditorium, so the event moved to Ruby Diamond Concert Hall.

(Cover photo: The gentleman in green glasses standing behind Vanessa Escobar is Pensacola Regional Campus Dean Paul McLeod. Like the other campus deans, he was dressed in a, well, creative green outfit in honor of St. Patrick's Day.)
(Read a longer version of the story, and see where the students matched.)


DR. G AT GRADUATION
You don't expect to find TV stars listed among the College of Medicine's clerkship faculty, but there's at least one: Jan Garavaglia, M.D., known to Discovery Channel viewers as the star of the reality program "Dr. G: Medical Examiner." She will be the featured speaker at the commencement ceremony for the Class of 2011.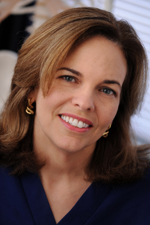 Garavaglia, chief medical examiner for Orange-Osceola counties, is a faculty member at the Orlando regional campus. The graduate of the St. Louis University School of Medicine completed her residency in pathology at the University Hospitals in St. Louis and her fellowship in forensic pathology at the Dade County Medical Examiner's Office. She obtained certification by the American Board of Pathology in forensic pathology, anatomic pathology and clinical pathology.

In 2008 her program won an International Health and Medical Media award for Best Health Series. The Class of 2011 nominated her to be commencement speaker.

Graduation is scheduled for 10 a.m. Saturday, May 21, at Christian Heritage Church, 2820 Sharer Road. The valedictorian is Mark Elliott. This is the seventh class to graduate from the College of Medicine. And when the ceremony is over, the medical school's alumni count will have jumped from 336 to 450.

REACCREDITATION: NOW COMES THE WAITING
First came 18 months of preparation, followed by a five-day visit from the site team, followed by the current six months or so of waiting for the official ruling. That's the nutshell version of the College of Medicine's reaccreditation story.

The six-person survey team that visited in early April asked tough questions in its quest to determine how well the College of Medicine complies with accreditation standards. Many of the participants feel confident that the visit was a success, but it's far too early for any celebration. The site team's findings will be forwarded to the Liaison Committee on Medical Education, which will vote on whether to reaccredit the College of Medicine through 2019. That vote is expected during the LCME's regularly scheduled meeting in October.

The survey team was made up of representatives from six medical schools and comprised two deans, a professor of internal medicine, a vice dean for academic affairs, an associate dean for medical education and a fourth-year medical student.
(Read a longer version of the story.)

DEVELOPING SCHOLAR AWARD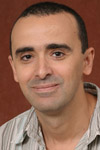 Associate Professor Mohamed Kabbaj was one of six Florida State University faculty members honored with a 2011 Developing Scholar Award at the university's Faculty Awards Ceremony. He was nominated by peers and selected by the university Council on Research and Creativity for the award, which is designed to identify and recognize scholarly activity with the goal of stimulating additional development of high-quality programs at FSU. Kabbaj, who joined the College of Medicine in 2002, is exploring questions that could help explain various psychiatric disorders, including those behind depression and substance abuse.
(Read a longer version of this story.)
FACULTY OF 1000
Two papers from the lab of Professor Michael Blaber, Ph.D., have been selected by the Faculty of 1000, which places them in the top 2 percent of published articles in biology and medicine. "Experimental support for the evolution of symmetric protein architecture from a simple peptide motif" was published in Proceedings of the National Academy of Sciences. (Information can be found here.) "A polypeptide 'building block' for the β-trefoil fold identified by 'top-down symmetric deconstruction'" was published in the Journal of Molecular Biology. (Information can be found here.) The author of both papers was Jihun Lee, former grad student and postdoc in the Blaber lab.
CENTRIOLES AND DEVELOPMENTAL CELL
In Developmental Cell, Associate Professor Tim Megraw wrote "PP2A Targets SAS-5 in Centriole Assembly," a commentary on a pair of papers that reported a breakthrough in understanding how centrioles are assembled. "The two papers that appeared in Developmental Cell are highly relevant to human disease, as they expand our understanding of a spectrum of diseases called ciliopathies," he said. Megraw points out that two mechanisms for SAS-5 regulation by protein phosphatase 2A were described in the two reports, and maps out the key avenues for future investigations of these important molecules and how they regulate centriole replication.
FLORIDA FAMILY PHYSICIAN OF 2010

Richard Hays, M.D., clerkship faculty member at the Fort Pierce regional campus, was named Florida Family Physician of 2010 by the Florida Academy of Family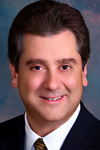 Physicians. Excerpt from Florida Family Physician: "Dr. Hays' community service has included volunteer team physician for a local high school football team and providing hundreds of free physicals for Special Olympians. He has also served as a medical advisor for the Palm Beach Chapter of the American Cancer Society and served on the board of Seagull Charter School in Lake Worth. Dr. Hays has served on the Florida Task Force on Early Diagnosis of Colorectal Cancer and was a past chairman of the American Cancer Society Lung Cancer Task Force. In his 'spare time,' Dr. Hays wrote the script for an audiotape on diabetes management for the AAFP home study self-assessment module, and has had articles published in Hospital Practice, Journal of the Florida Medical Association, and Florida Family Physician, among others. He is also certified by the National Committee on Quality Assurance for special qualification in care of patients with diabetes."


MORE TO EXPLORE
* Dean John Fogarty, Senior Associate Dean Alma Littles and Class of 2011 President Ashley Lucke appeared in the April edition of Florida State President Eric Barron's program "Issues in Education." The episode should be posted soon at the program's website.


* The College of Medicine was one of the sponsors of an impressive symposium on evolutionary medicine. Find out more.

* A total of 81 posters were on display at the college's Research Fair. See a complete list.