CLASS OF '08, THIS NEXT REUNION IS YOURS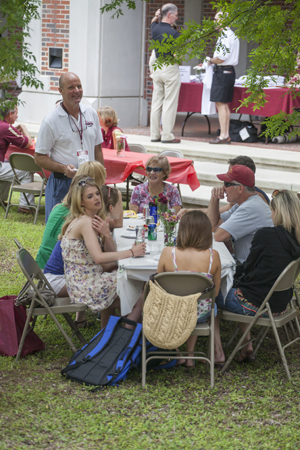 Blue sky, spring breeze, thought-provoking CME session, kids with painted faces, dean with king-size spatula and burgers on the grill. The 2012 alumni reunion was fun – and now it's time for the Class of 2008 to start making plans to attend next year's gathering, where they'll be the honored guests. Every other College of Medicine and Program in Medical Sciences alum is welcome, too, but this time the Class of '08 will be king.

Write down this reunion date: April 12-13, 2013. Here's the best-case scenario: A couple of '08 alums will decide soon that they're coming to the reunion – and will start contacting their old classmates, to make it a weekend they'll all remember. Getting an invitation from a fellow alum always packs more punch than one from a staff member – though we staff members are ready to do everything we can to help your reunion be unbeatable.

Have questions? Willing to help round up classmates? We can help. Email Alumni Affairs Coordinator Alexa Von Staden or call (850) 645-9428.


AND COMING THIS FALL …
In the previous issue of EMR, we said that the inaugural Distinguished Alumni Award would be presented during the reunion that just took place in April. Change of plans! Yes, the honoree has been chosen – but we decided to make the presentation an even bigger deal. This award banquet is going to become the centerpiece of a brand-new alumni weekend in the fall, when football season brings many of you to town.

The details, including the date, are still being decided. As soon as they're set, we'll let you know. You won't want to miss it.


HAVE ANY GOOD PIMS PHOTOS?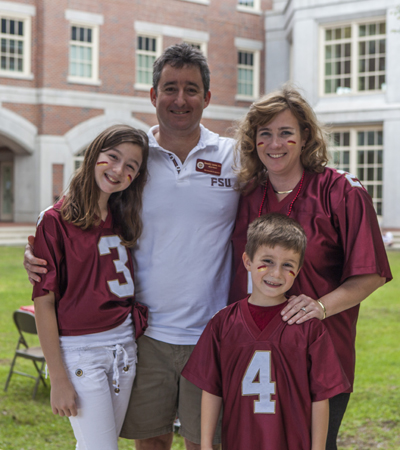 If so, we could use them. At the top of the grand staircase in the College of Medicine, we're designing a PIMS wall similar to the donor wall in the atrium. It will be a permanent way to recognize – and thank – the 30 years' worth of Program in Medical Sciences students who laid the foundation for this medical school. (In this photo is Don Levine, who transferred from PIMS in 1991, relaxing with his family at the reunion.)

Like the donor wall, the PIMS wall will have places reserved for photos. To be honest, we don't have many fun PIMS photos. We're hoping that you do. If so, please scan them in and email them to Alumni Affairs Coordinator Alexa Von Staden.


UPDATE FROM ORLANDO
Three College of Medicine alumni participated in the American College of Physicians meeting in March in Orlando. Here are their names and a brief description of their participation: Brittany Foulkes, M.D.,'10, now a resident at Orlando Health ("Intravenous Sodium Thiosulfate in the Management of Rapidly Progressing Calciphylaxis"); Stephanie Prada, M.D., '09, now a resident at Orlando Health (participant in Doctors' Dilemma); and David Snipelisky, M.D., '11, now a resident at Mayo Clinic Florida ("A Bad Heart from a Stomach Ache," also participant in Doctors' Dilemma). See which current medical students also participated.


'REMIND ME: WHAT IS THIS 'HOST' PROGRAM?'
Think of it as a "Give a fourth-year student a break" program. The "hosts" in the HOST program are alumni who are telling fourth-years, "If you're traveling to our town for a residency interview, don't stay in a hotel – stay in our home. We'll give you not only a place to stay but a tour of the town and our observations about the program. And you can fill us in on the latest news from campus."

"HOST" stands for Help Our Students Travel. So far, 16 hosts have signed up. You'll find them on the map we put together. If you want to become a host, let us know.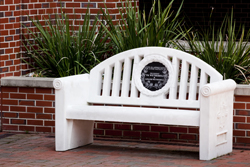 A GRADUATION GIFT IDEA
As graduation approaches, it's time to look at the College of Medicine courtyard in a whole new way. It's paved not just with bricks but with names and memories. A personalized brick or paver, or even a bench, is a unique way for you to pay tribute to a graduate, family member or faculty member. Get all the details of the Legacy Celebration Program.
YOUR BOARD MEMBERS
The Alumni Board is made up of:
- Michael J. Sweeney, chair, M.D. (PIMS, '75).
- Rick Sheridan, M.D. (PIMS, '76).
- Gordon Burtch, M.D. (PIMS, '77).
- Keith Ingram, M.D. (PIMS, '81).
- Floyd Jaggears, M.D. (PIMS, '83).
- Scott Warren, M.D. (PIMS, '83).
- Don Levine, M.D. (PIMS, '91).
- Shannon Price (M.D., '06).
- Chris Sundstrom (M.D., '06).
- Tanya Anim (M.D., '10).
- Marlisha Edwards (M.D., '11).
- Layla Lundquist-Smith (M.D., '11).


MEDICAL EDUCATION FOR FLORIDA'S FUTURE
We deeply appreciate the generosity of the College of Medicine's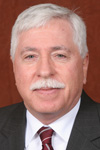 many friends. Without their financial support, many of the high-quality programs essential to our students' learning experience would be lost to budget adjustments necessary in today's financial environment. We extend our profound thanks to the many donors who've responded to help support this medical school since it was created in 2000.

If you would like to discuss making a gift in support of the College of Medicine's vital role preparing new physicians to meet the challenges of Florida's health-care needs, please contact Wayne Munson, assistant dean for development, 850-644-4389.


JOIN US ON FACEBOOK AND TWITTER
If you haven't already done so, please become a fan of the College of Medicine alumni Facebook page. There you can view our latest news, events and photos. And here is a link to our Twitter page.